The History of Document Management:
The Beginnings
When did the idea of Document Management begin?
Throughout human history, people have always tried to preserve information in one way or another. Before written languages were developed, people passed on histories and stories through oral traditions. Several early forms of information management came after oral traditions, such as cave paintings, Egyptian wall paintings, Ancient Roman scrolls, and libraries. These are all interesting in their own right, but the management of individual documents didn't begin until much later with the invention of the Vertical File System.
Vertical File System
(Filing Cabinets)
Filing Cabinets are arguably the first form of document management. Edwin Grenville Seibels invented the vertical file system in 1898, which effectively revolutionized record keeping. The vertical file system, or file cabinets, was an easily understandable system that could organize and store files. File Cabinets took off and became the dominant way to manage documents throughout the twentieth century. Every office utilized filing cabinets to keep their documents easy to access and organize.
Despite their wild popularity, filing cabinets take a large amount of time and resources to keep up to date.
Filing Cabinets have several drawbacks:
Bulky- Large companies that need to handle vast quantities of files sometimes need whole warehouses dedicated to their filing cabinets.
Inefficient- Every document must be individually filed and organized. Then, when a document is needed, it can be hard to locate.
Not secure- Files can be easily lost, stolen, or damaged.
For many years these drawbacks had to be dealt with because there were just no better alternatives. Until the advent of computers, filing cabinets were the only viable option for document management. In our next "History of Document Management" blog, we will discuss how computers changed the future of document management.
How can DOMA help your business manage documents?
DOMA Technologies is an experienced digital solutions provider for a wide range of transformative cloud technologies. Whether you're just getting started with digital services such as document scanning or looking to implement more advanced automation and AI tools to manage your files, we are here to answer any questions you may have.

About DOMA-
Powered by Tech, Driven by People
DOMA Technologies (DOMA) is a software development and digital transformation company whose mission is to change customer lives by lightening their workload through faster and more targeted access to their data. Since 2000, our team of 200+ experts has helped businesses navigate all aspects of the digital world. We are a dedicated strategic partner for the federal government and private sector clients at every stage of their unique digital transformation journey.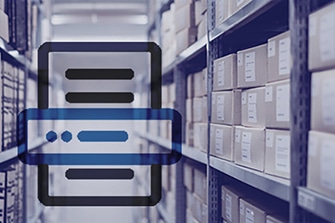 Learn more about DOMA's Digital Services.