DOMA DX 8.0 Brings a New User Experience to Customers
DX 8.0 is Rolling Out to New and Current Customers
It's been a long journey, but the DOMA team is excited to announce that the DOMA Experience 8.0 is launching and bringing customers a new user experience. On Veterans Day 2019 DOMA began selecting customers for migration to the improved interface. After careful testing with that set of users, DOMA DX 8.0 is finally launching company-wide. Over the next few months all current customers will be guided through the process of switching from DX 7.7 to DX 8.0.
Interested in learning more about what features DOMA's DX Software has to offer? Check out our features page:
Interested in seeing the new user interface and features in DX 8.0? Check out our DX 8.0 Launch Information Page:
In Fall 2019 and Winter 2020 DOMA held 3 different DX User Groups as a part of the effort to fine-tune DX8.0. These groups allowed current customers to test the software changes, offer suggestions, ask questions, and sign-up to be early adopters of the 8.0 launch. Feedback was overwhelmingly positive, including constructive feedback that helped the development team to catch and correct any early issues. Many of the DX users who participated are longtime customers whose depth of experience with DX was incredibly helpful in assessing the early success of 8.0. Event attendees took part in a follow-up survey, and 100% of participants said they would recommend DOMA DX 8.0 to customers like themselves.
These DX User Group meetings are a part of DOMA's new approach to customer engagement. In the past, changes have rolled out with minimal notice and no associated training. Moving forward the goal is to include the customer in the process, use their feedback to drive future updates, and provide guidance when transitioning to new versions. DOMA plans to hold a User Group meeting each quarter to ensure that any improvements are falling in line with customer expectations. 

Customers are often surprised by the depth of the software's capabilities. We are aiming to offer our customers new resources in order to help them take full advantage of our software. Our support system is newly updated with email and chat capabilities available directly within DOMA DX. We are working on new training videos that will explain key features and helpful workflows. 
Often, users have only been using a single workflow in DX for years and never realized how much automation is available to them. DX is much more than a simple document repository. It has the power to extract, index, and organize data in ways that can completely change how you engage with your content. Generate forms, collaborate, and deploy data strategically all within a secure cloud platform. Ultimately, DX is designed to help you work more intelligently and the updated feature set really delivers on that goal.
Learn About What's New in DX 8.0
Take a look at our DX 8.0 Software Brief to learn more

About DOMA-
Powered by Tech, Driven by People
DOMA Technologies (DOMA) is a software development and digital transformation company whose mission is to change customer lives by lightening their workload through faster and more targeted access to their data. Since 2000, our team of 200+ experts has helped businesses navigate all aspects of the digital world. We are a dedicated strategic partner for the federal government and private sector clients at every stage of their unique digital transformation journey.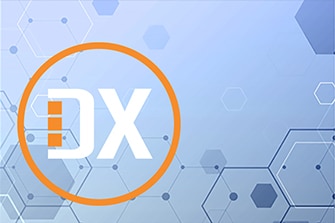 Learn more about DX Software