Disaster Recovery as a Service (DRaaS)
Fully managed and straightforward to implement, on-demand scalability & safeguard your complete IT environment from disaster
Disaster Recovery as a Service can safeguard your entire digital infrastructure from costly outages, data loss, or cyber attacks.

Disaster recovery as a service is more than just a basic data backup. with DRaaS your entire IT environment is securely mirrored within the Cloud, to ensure you can pick up right where you left off if the unexpected happens.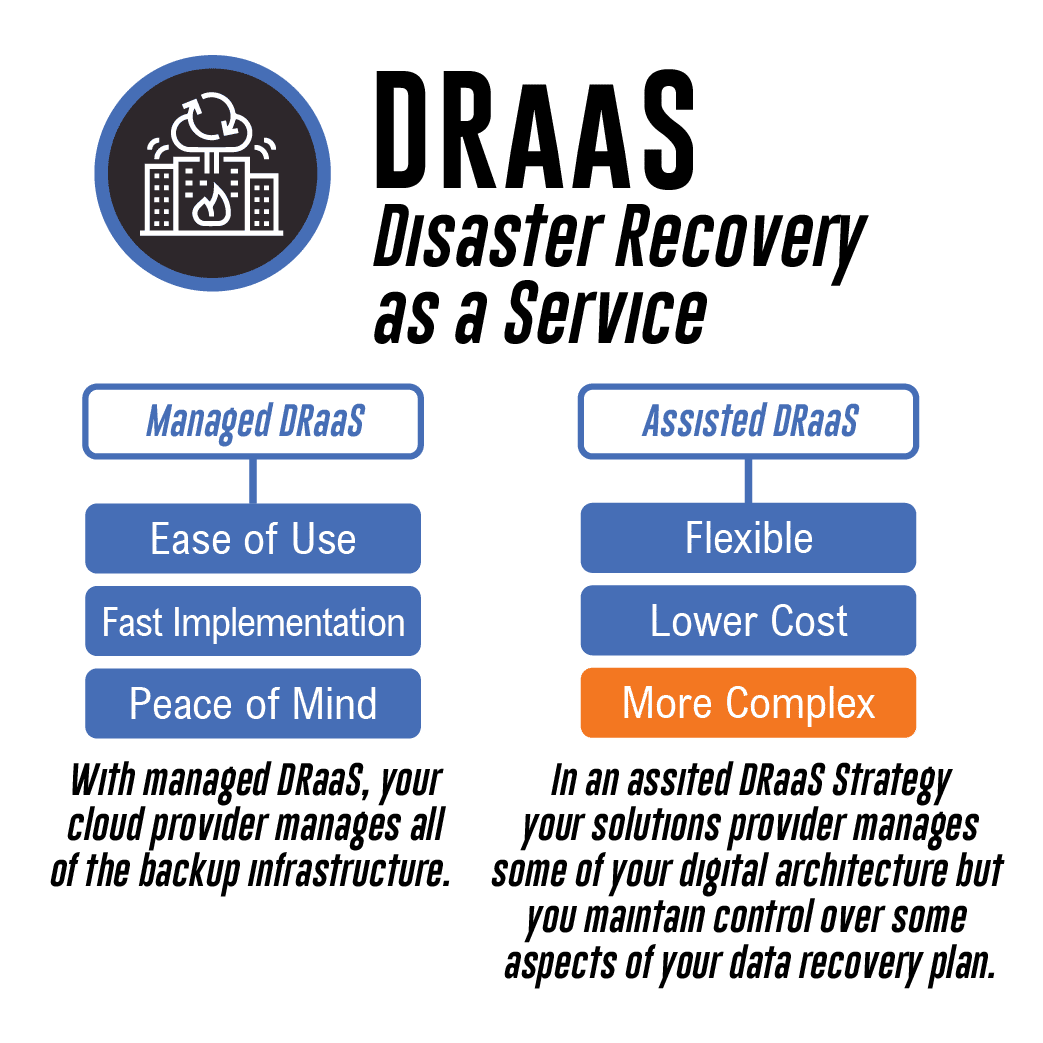 Make data recovery simple, fast, and worry free with a DRaaS solution.
Disaster Recovery as a service can save your organization money by eliminating the need to provision and maintain  your own off-site disaster recovery environment.
DRaaS works by replicating and hosting your IT enviornment within the Cloud. In the event of a disaster all of your valuable data and applications can be recovered and re-launched from this back up. 
DOMA can help you determine Recovery Time Objectives (RTO) and Recovery Point Objectives (RPO) that meet your unique needs. Our team will help you both with developing a strategy and managing the implementation. 
Scalable and Flexible
More Accessible for Small and Midsize businesses than DIY
Keeps your organization operational in the event of a data disaster
Lower investment in time, labor, and expertise than on-premise solutions
Requires significant upfront planning to determine RTO and RPO goal
 Complex or highly customized applications can be more challenging for a provider to manage for you
Use Cases & DOMA's Proven Success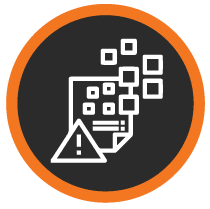 Minimize Data Loss & Downtime
The main advantage of implementing a DRaaS strategy is that your valuable business data is protected. Organizations that do not have a cloud-based disaster recovery strategy often cannot recover when the unexpected happens. Even when data can be restored, significant outages or downtime can lead to incredible losses in revenue. An effective DRaaS strategy can have you back up and running faster than any on-premise solution.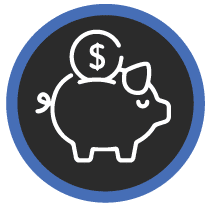 Save Money on Labor & Resources
By outsourcing your disaster recovery plan to a 3rd party provider you free up essential members of your IT team to work on revenue generating activities. Likewise, you can experience savings in the cost of your digital infrastructure by partnering with a DRaaS expert.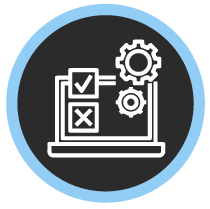 Test your Applications with Confidence
An application outage isn't always the result of hackers or natural disaster. Rolling out updates to your critical applications sometimes doesn't go the way you expect. With an effective DRaaS strategy you can test upgrades and DevOps in a secure offline environment. By backing up your digital infrastructure in the Cloud, you can always roll back to a previous enviornment if an update doesn't go as expected. 
City of Port St. Lucie Case Study
The city of Port St. Lucie anticipates savings of over 42% on hosting costs by migrating to the Cloud with DOMA.
DOMA migrated a PSL SQL-based application to Amazon's Relational Database Service (RDS). RDS provides cost-efficient and resizable capacity while automating time consuming administration tasks such as hardware provisioning, database setup, patching, and backups.
We Are Certified Experts and Ready to Meet All of Your Cloud Needs
DOMA Technologies (DOMA), a cloud native company, is a leader in Content Management & Digital Services. We serve a diverse range of federal, state, local municipality, education, and commercial customers with customized solutions that empower people with technology. 
As a certified Amazon Web Service partner, DOMA brings the unique pairing of experience in software-based content and records management coupled with the infrastructure of the industry's most dominant cloud provider.  DOMA's software (powered by AWS) gives customers more elastic options to expand, integrate other applications, and phase in more business processes.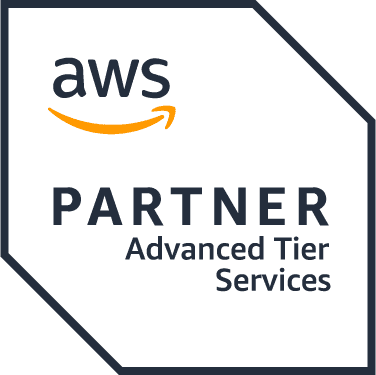 About our AWS Partnerships:
The APN Advanced Consulting Partners are companies with a strong team of trained and certified technical individuals and have proven customer experience in helping customers of all sizes design, architect, build, migrate, and manage their workloads and applications within Amazon Web Services.
The AWS Public Sector Partner  (PSP) Program recognizes APN Partners with solutions and experience in delivering government, education, and nonprofit customer missions around the world.
DOMA is an APN Technology Partner that provides software solutions which are hosted on the AWS Cloud.
Learn more about the different between common cloud service model acronyms such as SaaS, PaaS, and IaaS and explore their benefits.
Contact Us
DOMA Technologies was founded 23 years ago as a "cloud-first" technology firm and is an AWS Advanced Consulting and Public Sector Partner.
To learn more about DOMA Technologies Cloud Services please contact: