DOMA's DX Engage Software Enhances
Eliminate Repetitive Tasks With Automation
Explore how DOMA's DX Engage Software can create custom automated workflows in order to improve the efficiency of your organization.

DX Engage's automated workflows are designed to make document management simple. Improve collaboration and accountability with alerts, or eliminate repetitive tasks by incorporating automated form creation.
At DOMA we tailor workflows specifically to your organization's needs. Workflow management can save you a lot of time by streamlining standard processes such as:
Track changes in status (or content) for a task or document


Alert specific personnel when conditions change or decisions need to be made


Send, fax, index, tag, or alter documents based on content or document type


Gather information and organize it


Populate or generate forms


Execute tasks based on pre-set timelines (eg. alert supervisors if a task is not completed by a certain time)


Track team progress on assignments or action items
 
DX Engage Software is designed to deploy automation to ease your daily workload. However, when tasks are performed automatically and without direct human oversight it can bring up concerns about security. Many individuals resist automation with the understanding that it may compromise documents or make the vulnerable. 
At DOMA we know that a reliable and well-defended electronic document management system is paramount. Therefore, in addition to our own layers of security, we deliver our DX Engage Software through Amazon Web Services (AWS) – the market leader in secure, scaleable Cloud Solutions. AWS combines ease of access with industry-leading security protocols to ensure your data is both easily available to your team and protected from unauthorized access. 
Workflows in DX Engage Software
When adding a custom workflow your organization can work with one of our Analysts to plan out and integrate the workflow in a way that best addresses your business process challenge. 
Workflows are made up of tasks. These tasks can be customized based on your specific industry needs.
Tasks can include things like:

Send an email to "X."
Have the system fill out "X" custom fields. The values for these fields can include Date, String, Drop-Downs, etc.
Add "X" Page to an Existing Document.
Move Document "X" to Folder "Y."
Change a Document's type.
Auto-Relate – attach documents based on common fields.
Assign Back End Process – this may include things like faxing, form recognition, OCR, barcode, exporting, and more

Tasks are then performed when the criteria you specify are met, such as:

When all documents of type "Y" have a creation date of xx/xx/xxx do "X" task.
When all "X" tasks are complete do "Y" task.

Workflow Tasks can be Concurrent (Multiple tasks happening all at once) or Sequential (Each task is dependent on the completion of another task).
With DOMA's Word Dynamic Forms, DX Engage can also create forms and populate forms with user-specified information.
The DX Engage Software automatically checks for tasks and workflows so that they can be performed in the background without interrupting the productivity of your workday.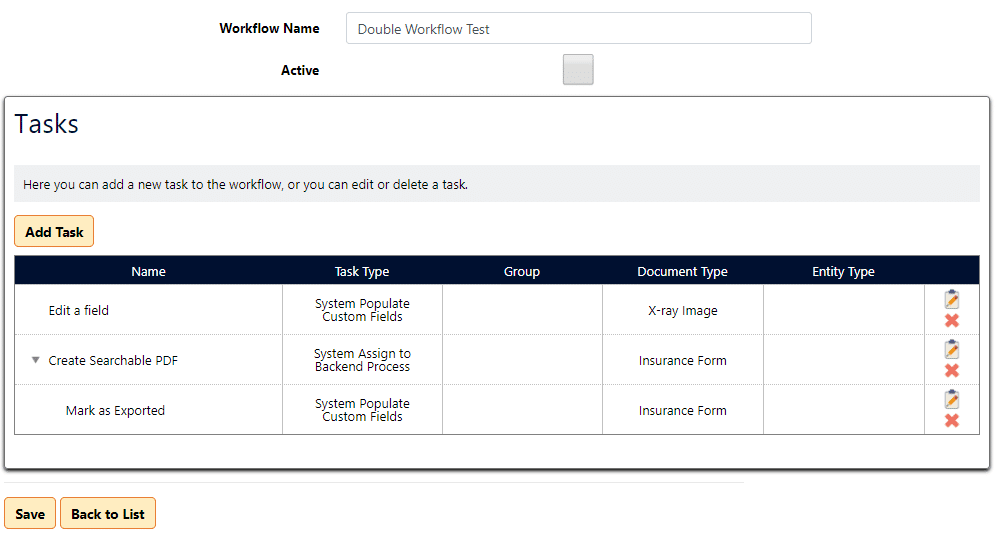 Find out more about all of the features DX Engage Software has to offer
DX Engage Software is more than just a workflow software. See what other features in our software can help optimize your organization.
Contact Us
Contact us to schedule a personalized consultation and find out how we can make your organization work better for you with the DX Engage Software or Microservices. For more information about DOMA Technologies and our software solutions please contact:
Chandler Pitcher | Chief Technology Officer
757.306.4920