Custom Automated Workflows-
How can they be used to improve your business?
What is a Custom Automated Workflow?
Wouldn't it be great to get rid of the small everyday chores that waste company time? In actuality, the technology to minimize these kinds of tasks is both highly accessible and easy to integrate. In many cases, the answer to eliminating repetitive, low-level activities is incorporating automated workflows. This type of automation is already a major component of the software platforms or apps you may already be using for your business. Whether you're working with basic word processing programs or advanced video editing software, automatic workflows are frequently at work behind the scenes. These workflows may be as simple as prompting you through the setup of a new document or as complex as lifting and analyzing metrics from multiple sources to track and display your productivity. In either case, these types of automation can make your job easier. 
The first step in actively integrating automated workflows is understanding how they are different from regular workflows:
Workflows are defined steps that when practiced in sequence can improve work processes from the beginning to end. They are a path of decisions or actions designed to efficiently complete a task. 
Automated Workflows are a technology-driven solution that removes or minimizes the necessity for human intervention within a process. An automated workflow is executed by a machine or software to quickly and accurately complete a task.  
One of the areas in which automated workflows can make a huge impact is when dealing with data and documents. By optimizing workflows and creating automated workflows, you can improve a variety of business processes in terms of accuracy and time investment. 
3 reasons Workflows are important and can improve your bottom-line:
Efficiency
Save time and therefore money by cutting down the effort required of employees doing repetitive, daily tasks. This frees up employees to focus on more involved activities that require critical thinking or a human touch. 
Accuracy
Minimize errors by automating the tasks most prone to human error such as filling duplicate form fields, calculating totals, and tagging or alerting other personnel on action items. 
Speed
Automated workflows are triggered instantly when certain criteria are met in the software or app. This can help expedite the process, especially if there are multiple points at which human input is needed, by immediately (and if desired, repeatedly) alerting the next person in the chain of action. 
What kinds of document/data centered tasks can be improved by workflows?
Building automation in your processes can help make tedious work a thing of the past. Workflows are excellent for quality control when documents or tasks need to be checked at various stages for accuracy. Additionally, automated workflows can have branching decision paths that alert different individuals in your organization when particular conditions are met. Automation can be used to support more complex tasks as well, such as organizing and selecting the resumes of candidates that meet specific criteria or re-routing purchase orders by the types of items being ordered, price, and requesting department.
Automated workflows can be customized to your specific industry's needs and easily scaled across your organization to help foster interdepartmental collaboration. Some of the helpful tasks an automated workflow can do include:
Track changes in status (or content) for a task or document

Alert specific personnel when conditions change or decisions need to be made
Send, fax, index, tag, or alter documents based on content or document type
Aggregate information and organize it
Populate or generate forms
Execute tasks based on pre-set timelines (eg. alert supervisors if a task is not completed by a certain time)
Track team progress on assignments or action items
The possibilities are truly limitless, especially when paired with data extraction or artificial intelligence technologies. The key is finding the right processes to automate. Focus on choosing tasks that will make the most impact and scale from there. The following example shows an easy integration that can make an immediate difference in your team's daily routine:
Imagine your organization generates a large volume of documents daily that need to be faxed to a specific vendor. This vendor requires every fax to have a fax cover sheet labeled with the sender, date, and status of the document being sent. Repeatedly filling out that information manually can add up to a lot of wasted employee time and is prone to error. 
With the addition of a simple back-end workflow, the right document management system can automate the creation of the fax cover sheet. Once implemented, this workflow can extract the necessary information from the appropriate document/repository, create the fax cover sheet, and attach it to the document in question. Additionally, the completed document can be automatically marked for faxing and assigned to a fax out service. 
Custom Automated Workflows in DOMA's DX Software
Choosing the right software can enable your team to perform more efficiently. Many Content Services Platforms will offer you the ability to create custom workflows. With DOMA's DX Software we help tailor workflows specifically to your organization's needs.
Setting up effective workflows requires a different way of thinking about streamlining a process. That's why our team is equipped to help with both the strategy and deployment of automated workflows within our software.. When adding a custom workflow your organization can work with one of our Business Analysts to plan out and integrate the workflow in a way that best addresses your process challenge.
How do Automated Workflows work in DOMA's DX Software?
Workflows are made up of tasks. These tasks can be customized based on your specific industry needs.
Tasks can include things like:

Send an email to "X."
Have the system fill out "X" custom fields. The values for these fields can include Date, String, Drop-Downs, etc.
Add "X" Page to an Existing Document.
Move Document "X" to Folder "Y."
Change a Document's type.
Auto-Relate – attach documents based on common fields.
Assign Back End Process – this may include things like faxing, form recognition, OCR, barcode, exporting, and more

Tasks are then performed when the criteria you specify are met, such as:

When all documents of type "Y" have a creation date of xx/xx/xxx do "X" task.
When all "X" tasks are complete do "Y" task.

Workflow Tasks can be Concurrent (Multiple tasks happening all at once) or Sequential (Each task is dependent on the completion of another task).
With DOMA's Word Dynamic Forms DX can also create forms and populate forms with user specified information.
The DX Software automatically checks for tasks and workflows so that they can be performed in the background without interrupting the productivity of your workday.
Are Automated Workflows Safe?
DOMA DX Software is designed to deploy automation to ease your daily workload. However, when tasks are performed automatically and without direct human oversight it can bring up concerns about security. Many individuals resist automation with the understanding that it may compromise documents or make the vulnerable. At DOMA we know that a reliable and well-defended electronic document management system is paramount. Therefore, in addition to our own layers of security, we deliver our DX software through Amazon Web Services (AWS) – the market leader in secure, scaleable Cloud Solutions. AWS combines ease of access with industry-leading security protocols to ensure your data is both easily available to your team and protected from unauthorized access. 

About DOMA-
Powered by Tech, Driven by People
DOMA Technologies (DOMA) is a software development and digital transformation company whose mission is to change customer lives by lightening their workload through faster and more targeted access to their data. Since 2000, our team of 200+ experts has helped businesses navigate all aspects of the digital world. We are a dedicated strategic partner for the federal government and private sector clients at every stage of their unique digital transformation journey.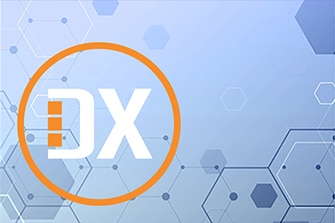 Learn more about DOMA's DX Software