Easy to Use Cloud Tools for Better Data Insight
Artificial intelligence isn't new, but its impact on business is continuing to grow. With so many businesses adopting intelligent automation, it's becoming increasingly challenging to compete without it. Indeed, machine learning tools can be a defining factor in the success of your applications and business processes. They are especially effective when applied to document management workflows and data extraction or redaction. Machine learning allows you to process large volumes of information with ease so that your team can focus on making high-level decisions. 
The challenge for many businesses is finding a way to build and apply these tools. The investment and expertise required to create machine learning applications from scratch is significant and consequentially out of reach for many businesses. However, platforms like Amazon Web Services (AWS) offer affordable options for innovators looking to apply machine learning to their internal workflows and applications. In this blog we will showcase five machine learning tools ideal for getting more from your data. 
Amazon Comprehend is a natural language processing (NLP) service that uses machine learning to find insights and relationships in text. No machine learning experience required.
How to Use it:
Amazon Comprehend is all about identifying relationships within unstructured data. Amazon Comprehend can be applied to customer analytics, accurate search, support tickets, medical records analysis, and more. This tool is customizable, allowing you to focus in on industry specific text. Even without any machine learning expertise it's possible to fine-tune this tool by training it with your own data. Analyze more than just scanned documents, Comprehend can help you reveal customer habits from social media posts or product reviews, assist in diagnosis by reviewing medical files, or determine any number of metrics from emails, news feeds, and more.
Amazon Lex is a service for building conversational interfaces into any application using voice and text. Lex provides the advanced deep learning functionalities of automatic speech recognition (ASR) for converting speech to text, and natural language understanding (NLU) to recognize the intent of the text, to enable you to build applications with highly engaging user experiences and lifelike conversational interactions. .
How to Use it:
The primary use cases for Amazon Lex is the development of intelligent, intuitive chatbots. This may not seem to have a lot of overlap with data and document management but Amazon Lex can bring real value to your organization by streamlining information requests and workflows both internally and in customer facing applications or websites. One unique use case is to apply Lex to enterprise productivity bots that can help your team access their dashboards and productivity metrics quickly. 
Amazon Translate is a neural machine translation service that delivers fast, high-quality, and affordable language translation. Neural machine translation is a form of language translation automation that uses deep learning models to deliver more accurate and more natural sounding translation than traditional statistical and rule-based translation algorithms.
How to Use it: 
Amazon Translate can open your business up to a whole world of new opportunities – quite literally. This service can make your website and applications accessible to international users as it's designed to translate large volumes of text efficiently. Additionally, this service can be applied in real-time allowing you to better serve customers through chat functions on your website. Get greater insight into your brand sentiment with international users, expand the reach of your applications and services, and better engage with user-generated content. Amazon Translate supports 71 languages meaning you can build more inclusive websites and apps. This tool costs a fraction of what it would to hire a human translator and can process large volumes of documentation making it ideal for situations where speed is a factor. According to Amazon, "With Amazon Translate, language service providers can increase productivity by as much as 50% and produce larger volumes of translation, freeing professional translators to focus on high-end creative content."
Amazon Transcribe is an automatic speech recognition (ASR) service that makes it easy for developers to add speech-to-text capability to their applications. Using the Amazon Transcribe API, you can analyze audio files stored in Amazon S3 and have the service return a text file of the transcribed speech. You can also send a live audio stream to Amazon Transcribe and receive a stream of transcripts in real time.
How to Use It:
Transcribe is an quick and effective way to get better insight into your audio content. With automated redaction, vocabulary filtering, and that ability to recognize multiple speakers this tool can fine-tuned to a variety of use cases. One common application is analyzing call center audio to gather metrics and improve customer service training. Your business can fine tune call scripts or screen calls based on customer sentiment for further investigation. Transcribe can also be used to add subtitles to video content, perform medical transcription analysis, and analyze video/audio media for trends. 
Amazon Transcribe is priced by the second or minute making it both affordable and straightforward to budget for. Additionally, AWS offers a free tier with up to 60 minutes a month for the first year. 
Amazon Textract is a service that automatically extracts text and data from scanned documents. Amazon Textract goes beyond simple optical character recognition (OCR) to also identify the contents of fields in forms and information stored in tables.
Many companies today extract data from documents and forms through manual data entry that's slow and expensive or through simple optical character recognition (OCR) software that is difficult to customize.
How to Use it:
If your team is currently processing forms manually than Amazon Textract may be right for you. This tool does far more than just basic OCR, this means that it can intelligently pull data from static form fields or tables and re-create them in context or pass specific data to an automated process. Amazon Textract is ideal for quickly and accurately processing government documents, applications, financial forms, medical paperwork, and more. Textract, when paired with workflow automation, can make quick work of normally very nuanced processes such as processing tax documents or reviewing medical claims. 
Conclusion:
As the speed of business continues to increase, manual data entry and analysis just isn't effective any longer. Every day we produce more and more data and trends continue to evolve at a faster rate. Machine learning tools can help your team keep pace with the glut of disorganized data you are producing every day. Ultimately this unstructured data can be your business' most valuable asset. Getting better visibility into the data your organization is generating can help you make more informed decisions that can improve customer/patient satisfaction and drive revenue. As these tools become both easier to use and more powerful, they are bound to become industry standard for many organizations. Getting on board with machine learning now may mean the difference between success and obsolescence. 
As an AWS Select Consulting Partner, DOMA can help you implement the latest cloud-powered tools to elevate your document management strategy. If you'd like to learn more about how machine learning can support more efficient document and data management for your industry reach out today. We can build you a comprehensive strategy not only for integrating these machine learning tools, but for centralizing and applying the insights they provide. 

About DOMA-
Powered by Tech, Driven by People
DOMA Technologies (DOMA) is a software development and digital transformation company whose mission is to change customer lives by lightening their workload through faster and more targeted access to their data. Since 2000, our team of 200+ experts has helped businesses navigate all aspects of the digital world. We are a dedicated strategic partner for the federal government and private sector clients at every stage of their unique digital transformation journey.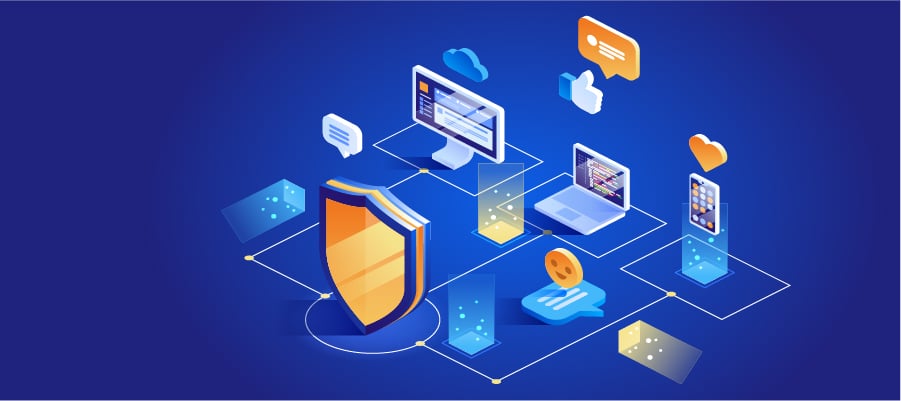 Take DOMA's 5-minute Digital Transformation Assessment to see what initiatives are right for your organization.