Solutions Made Easy Through DOMA's Virginia Cooperative Purchase Clause
DOMA is a SWAM certified business that can save you time and money with our scanning, software, and cloud services. DOMA's cooperative clause means Virginia public entities can skip the bidding process and purchase services in the same way they would any independent DPS or VITA state contract. This translates to considerable savings of both time and money for your school or state agency.
DOMA'S COOPERATIVE CONTRACT
State Cooperative Contract
Purchasing our services is extremely easy since DOMA holds a State Cooperative Contract Clause through our work with Newport News Public Schools. To read more about what we have done for NNPS download the case study above or click below to read more about Cooperative Contracts.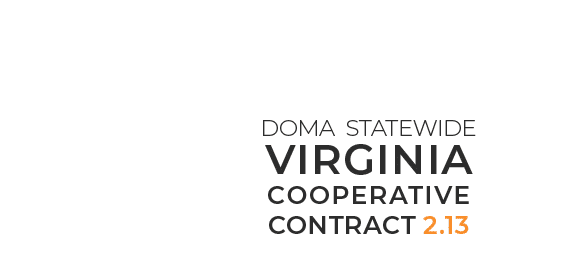 Using Entities/Regional /Cooperative Contracts
This solicitation was issued in accordance with Code of Virginia §2.2-4304 on behalf of the members of the Southeastern Virginia Governmental Purchasing Cooperative (SVGPC), as well as other public bodies, governmental jurisdictions and school divisions. In the event these entities opt to participate under any contract awarded as a result of this solicitation, each will enter into a separate contract directly with the Successful Offeror or Offerors, incorporating all terms and conditions set forth in this contract, including incorporated best and final offers. Each entity will be responsible for the contract administration of its contract directly with the Contractor. NNPS assumes no authority, liability or obligation, on behalf of any other public or non-public entity that may use any contract resulting from this solicitation. All purchases and payment transactions will be made directly between the Contractor and the requesting entity. Any exceptions to this requirement must be specifically noted in the solicitation response.
2.2-4304. Joint and cooperative procurement.

A. Any public body may participate in, sponsor, conduct, or administer a joint procurement agreement on behalf of or in conjunction with one or more other public bodies, or public agencies or institutions or localities of the several states, of the United States or its territories, the District of Columbia, the U.S. General Services Administration, or the Metropolitan Washington Council of Governments, for the purpose of combining requirements to increase efficiency or reduce administrative expenses in any acquisition of goods, services, or construction.

B. In addition, a public body may purchase from another public body's contract or from the contract of the Metropolitan Washington Council of Governments or the Virginia Sheriffs' Association even if it did not participate in the request for proposal or invitation to bid, if the request for proposal or invitation to bid specified that the procurement was a cooperative procurement being conducted on behalf of other public bodies…Read More
SERVICES ON THIS CONTRACT
Our digital services can free up valuable physical space in your building and help you get compliant with document/data standards in your state. If you are an agency that needs to transfer permanent records to NARA we can easily add appropriate metadata and help you get aligned with the government's M-19-21 memorandum as well. 
Scanning and Document Conversion
Information Governance & Compliance
Digitizing Permanent Records when Moving
Collaboration and Managing Information Access
We deliver many of our solutions through our innovative DOMA Engage platform. Our software in non-licensed based and can be easily scaled across your institution to promote collaboration with your information through the AWS Cloud. 
Anything DOMA Scans will be Immediately Accessible through the Engage Portal as a Searchable Digital Document.
Import New Content Moving Forward via the Outlook Plugin, Secure FTP, Fax, a desktop imaging app, or the online portal.
Highly Configurable & Customizable to Meet Your Needs
Easily Manage Users and their Access to Private Records
Frequently asked questions
Contact Us
For more information about DOMA Technologies State, Local, and Education Solutions please contact: