Making an Efficient Document Management Checklist
Get Started with Re-examining Your Document Management Strategy with an Efficient Checklist
Where do you start when putting together or revamping your document management strategy?
Document Management Checklist
It is important to assign the creation of your document management strategy to a specific employee (or task force), ensuring that nothing gets overlooked.
It is important to know what types of documents and data your business handles. Do you handle important documents such as Protected Health Information (PHI), Personally Identifiable Information (PII), or any other sensitive information? If you do, you must know how to handle that information securely.
In most industries, there are specific standards, laws, and regulations that your business must follow. Once you know what types of information your business handles, you must then identify which regulations will affect that information and your document management strategy moving forward. For example, if you handle PHI, you will have to comply with HIPAA rules, and your document management strategy will have to keep that in mind. If you employ a Compliance Officer, make sure that they are included in this step.
What documents need to be stored physically, and what can be stored digitally? Some regulations may require that you keep physical files on hand. However, it may be more convenient to store documents digitally. The benefits of converting files to digital can include better accessibility, improved access control, and searchability.
Consider how files are used daily to help inform how they should be stored. Does it take valuable time to search and find a document? Do these files get accessed by multiple people? Do you need to restrict access to certain files? If you answered yes to any of these questions, you may want to consider storing your files digitally.
Any documents that you no longer want to keep as physical files need to be scanned and properly disposed of. If you can't do this, you can find a provider who will scan your documents for you. Using a provider can have other benefits, such as adding metadata to the documents and quality control.
If you keep any documents stored digitally, you will need the help of your IT Department. They can help you decide how to organize your digital files. This can include storing documents in the Cloud, finding Software to organize the documents, and making sure your document management strategy is integrated with current company technology.
Your files must be secure for your business to function efficiently. You don't want to lose documents, allow the wrong employee access to secure files, or break any rules and regulations. If you have physical files, make sure they are properly stored in a secure space. If you have digital files, make sure they are housed in a central repository with strong security measures. For example, you can use an Enterprise Content Management System (ECMS), Software as a Service (SaaS), or Content Services Platform (CSP) to keep digital files secure.
Document management is constantly changing with new laws, regulations, and technology. It is important to keep on top of these changes by having a yearly audit.
This is by no means a comprehensive document management checklist, but hopefully, it will help you to get you started. Your checklist will be unique to your business, and your needs will be informed by the types of documents you manage.
How can DOMA help your business manage documents?
DOMA Technologies is an experienced digital solutions provider for a wide range of transformative cloud technologies. Whether you're just getting started with digital services such as document scanning or looking to implement more advanced automation and AI tools to manage your files, we are here to answer any questions you may have.

About DOMA-
Powered by Tech, Driven by People
DOMA Technologies (DOMA) is a software development and digital transformation company whose mission is to change customer lives by lightening their workload through faster and more targeted access to their data. Since 2000, our team of 200+ experts has helped businesses navigate all aspects of the digital world. We are a dedicated strategic partner for the federal government and private sector clients at every stage of their unique digital transformation journey.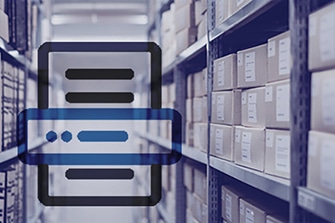 Learn more about DOMA's Digital Services.