Controlling Document Access
How do you make sure employees have appropriate access to documents?

If your business handles sensitive documents then controlling user access is a likely a key concern. Auditing user access is important for ensuring document integrity, maintaining compliance, and protecting user/customer privacy. A company-wide memo and a customer's payment information require different levels of protection. In almost every industry there is a need to determine levels of access; some examples of sensitive documents might include: 
Medical Records
Proprietary Company Memos/Processes
Employee IDs or Records
Pay Stubs
Insurance Documents
Customer Payment Information
It's important to strike a balance between ease of access and security. Some employees will need to be able to view and edit these documents. However, you still want to ensure that sensitive information is well protected by minimizing access.
How do you ensure appropriate employee access without reducing efficiency? 
Ensuring proper employee access to documents depends on how they are stored and accessed. Files can be stored physically in file cabinets, digitally on a computer, and digitally in an Electronic Content Management Software (ECMS). Each of these methods of storing your files offers different pros and cons.
Paper Documents in Filing Cabinets:
When you think of storing documents, one of the first things that come to mind is a room full of filing cabinets. Physical storage in locked cabinets is indeed a common answer to securing documents. 
Technology Free: Paper documents are as intuitive as it gets. Beyond basic literacy, there is no learning curve with paper documents. They also remain accessible in a power outage. 
No Need for Updates: Paper documents never need software patches, new passwords, or updated security software – they will always be accessible.
Slow Access to Documents: Employees' productivity can suffer if they have to search through a large number of files by hand to find the document they need.
Increased Possibility for Human Error: When a specific set of files is only in once place employees are forced to go to that place to get to a document they need to access. If someone needs a document that is in another building it may need to be scanned and subsequently emailed to them.  This process leaves a lot of room for human error and for documents to end up in the wrong hands.
Unauthorized Access: If documents aren't put back in the correct areas or a door/cabinet is left open, it is possible for someone without permission to access a physical file.
Digital Documents Stored Accross Computers:
Digital documents are becoming more and more important in all business processes. It's not uncommon for sensitive documents to be shared by email or stored on local desktops. 
Documents are Easier to Access
Improved Efficiency: Files are stored on a computer and easier for employees to access quickly, allowing for a smoother workday.
Tracking User Access & Changes
Can't Properly Keep Track of Document Sharing: It is hard to control user access because documents aren't all centrally located. Therefore, an employee could send documents via email without it being able to be tracked.
Can't Track Document Changes: If an employee makes changes to a document, they may not be applied to every version of the file.
Unauthorized Access: It could be possible for someone to gain access to a sensitive document if they gain access to the computer or hard drive that stores that document.
Digital Documents Stored on an ECMS:
An ECMS is a great way to organize and store many different types of files. By storing your documents in an ECMS you are able to easily control user access.
Easy to Use and Access Remotely
You Can Set User Access: You can create different user levels so that employees can only access the documents they need.*
Tracking User Access to a Specific Document: You can look at a user's actions and see which documents they have accessed, allowing for complete transparency.*
Tracking Document Changes: All changes made to a document can be tracked so you always know who made what changes.
Easily Accessible: An ECMS usually can be accessed easily from anywhere, with a login for your company and internet access, increasing productivity.
*These features apply to many ECMS, make sure to look into the one you are going to use individually to make sure it aligns with your security needs. 
Possible Off-site Complications: Access to any document requires internet access or data use on a mobile device.
Which is best for your organization?
In general, digitally storing and securing documents is going to be the most convenient option. There is a learning curve to using an ECMS, but it saves space, allows you to track access/changes, and protects documents from unauthorized access and natural disaster.
In reality, your business is likely to use a combination of all three methods. Ultimately, it will be a matter of clearly defining the access and retention policies for each type of document you handle. Archived documents that only need to be stored for a short retention period might be fine if stored in a locked file cabinet. Since they likely won't need to be accessed before being shredded at the end of their storage period, easy access may not be a concern. If that is addressed it becomes easier to select a storage solution based on your user needs. 
DOMA offers several solutions to help with your business's Digital Transformation. Start your transformation with our Scanning Solutions and take your files from paper to digital. Once your files are digital you can use our DX Software (DX), which allows your employees to collaborate securely. In DX you can control your user's access and track any changes they make to documents.

About DOMA-
Powered by Tech, Driven by People
DOMA Technologies (DOMA) is a software development and digital transformation company whose mission is to change customer lives by lightening their workload through faster and more targeted access to their data. Since 2000, our team of 200+ experts has helped businesses navigate all aspects of the digital world. We are a dedicated strategic partner for the federal government and private sector clients at every stage of their unique digital transformation journey.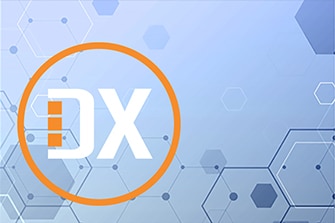 Learn more about Enterprise Collaboration with DOMA's DX Software.