DOMA Visits Wave Leadership College
DOMA Visits Wave Leadership College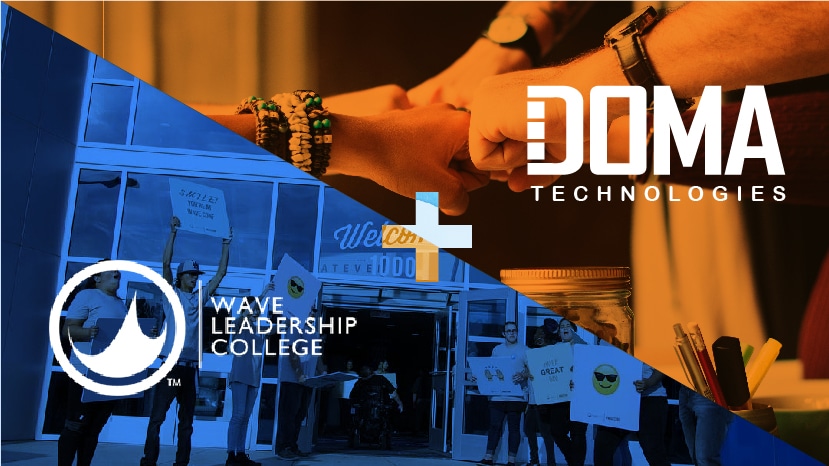 Virginia Beach, VA, March 4, 2019 –
At DOMA we take our Vision 2021 values seriously. One of those values, "Build Up Leaders" really speaks to DOMA's mission to give back to the community through educational programs. For four years DOMA has partnered with Virginia Beach's very own Wave Leadership College to help equip the next generation of leaders.
Once known as the Life Leadership Training Center, Wave Leadership College (WLC) was launched with an initial class of six students in 1999. WLC has since grown to include an accredited Associates Program with six different degree tracks. Their newer Bachelor of Science program, supported by Southeastern University, boasts five majors including Ministerial Leadership, Business Administration, Digital Media, Psychology, and Mass Communications. Wave Leadership College has set itself apart by being both highly affordable and student-focused. A small student to teacher ratio of 11 to 1 means that each student gets the hands-on guidance they need to reach the next level in their journey.
It is DOMA's goal to reach and inspire leaders both within the DOMA family and outside in the community. With that goal in mind, DOMA has provided both financial support and hardware donations in support of WLC's mission. DOMA was recently invited to tour Wave Leadership College (WLC) and learn more about how our partnership has improved both operations through our DX software and the technology resources available to their students. In addition to a behind the scenes view of the facilities, DOMA staff were afforded the opportunity to speak with current and former WLC students and see firsthand the effectiveness of this innovative curriculum. Their stories and successes were the highlights of the visit, and the DOMA team left inspired and assured that their contributions are making a difference.
It is an honor to be enriching such a passionate body of students through our partnership with Wave Leadership College. We believe our continued support ties right into our own vision for the future and DOMA is proud to be partnering with organizations like WLC as they mentor and educate the leaders of tomorrow.
Learn More :

"The mission of Wave Leadership College, as an experience-rich, academically-adept institution of Biblical higher education, is to equip Christian leaders to build the local church and transform their communities for the glory of God."
About DOMA-
Powered by Tech, Driven by People
DOMA Technologies (DOMA) is a software development and digital transformation company whose mission is to change customer lives by lightening their workload through faster and more targeted access to their data. Since 2000, our team of 200+ experts has helped businesses navigate all aspects of the digital world. We are a dedicated strategic partner for the federal government and private sector clients at every stage of their unique digital transformation journey.