3 Reasons Document Scanning is Still Important for Your Business
3 Big Reasons Document Scanning is Relevant for Businesses
Document Scanning can be easy to overlook. For a business, it can seem easier to just stick to the traditional methods you have always employed to deal with your documents, but is that the right choice? Here are 3 big reasons your business should ditch physical documents and go digital.
1- Disaster & Loss Protection
Physical records are unfortunately subject to damage and destruction
While it is true that documents stored in filing cabinets are not at risk for data corruption, online hacking, or digital theft; data is generally more secure in digital format. Physical records that are stored on-site are vulnerable to damage or destruction from:
Natural disasters- If important documents are affected, fire, flood, and pest damage can cripple your business.
Degrading over time- How long a document may need to survive isn't always taken into account. Documents may become unusable due to inferior paper, ink, or improper storage.
Loss- When it comes to document vulnerability it's important to take into account human error. A well-meaning employee may lose or damage a document.
Scanning your documents, creating a digital copy, and properly storing the data can prevent these disasters from affecting your business and bottom line.
2- Document Tracking & Security
Tracking document access and changes can be near impossible with paper files.
Paper files can have some serious tracking and security issues:
Difficult to Edit & Track Changes- Paper files are not easily editable, making tracking changes difficult. Accessing older versions requires maintaining multiple copies, which can be easily lost or discarded.
Document Access is Hard to Trace- Physical access to file cabinets is not traceable. There is no way to know who has used their keys to access documents or when and what was accessed without a sign-out sheet or cameras.
File Cabinets are Easy to Access- Keys are incredibly easy to lose or copy. Cabinet locks can be picked even without a key.
By scanning your documents and creating digital files you have more control over document access and tracking. There are many different types of software that allow you to restrict document access, track changes, and review previous versions.
3- The Environmental Impact of Paper
With increasing questions about the effects of global warming in 2021, it is more important than ever for businesses to consider their environmental impact.
In a previous blog about understanding your paper footprint, we discussed how paper has a negative impact on the environment. However, paper is a necessary part of doing business, so what do can your business do to start cutting down on the use of paper?
Minimizing the use of paper to only when it's essential can lead to big savings for the planet. The best way to start your business towards a paperless future is with document scanning. Getting all your documents transferred to digital will allow you to organize them in a central repository, such as an Electronic Content Management System (ECMS). Having all current documents centrally stored will let your business prepare to keep all future documents digitally.

How can DOMA help you implement Document Scanning?

About DOMA-
Powered by Tech, Driven by People
DOMA Technologies (DOMA) is a software development and digital transformation company whose mission is to change customer lives by lightening their workload through faster and more targeted access to their data. Since 2000, our team of 200+ experts has helped businesses navigate all aspects of the digital world. We are a dedicated strategic partner for the federal government and private sector clients at every stage of their unique digital transformation journey.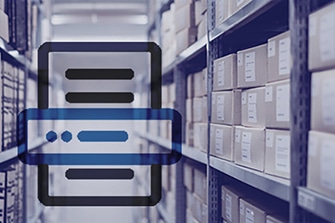 Learn more about Document Scanning with DOMA