Congrats to Morgan Banjoman, DOMA's Summer EOQ
Get to Know DOMA's Spring Employee of the Quarter (EOQ) - Morgan Banjoman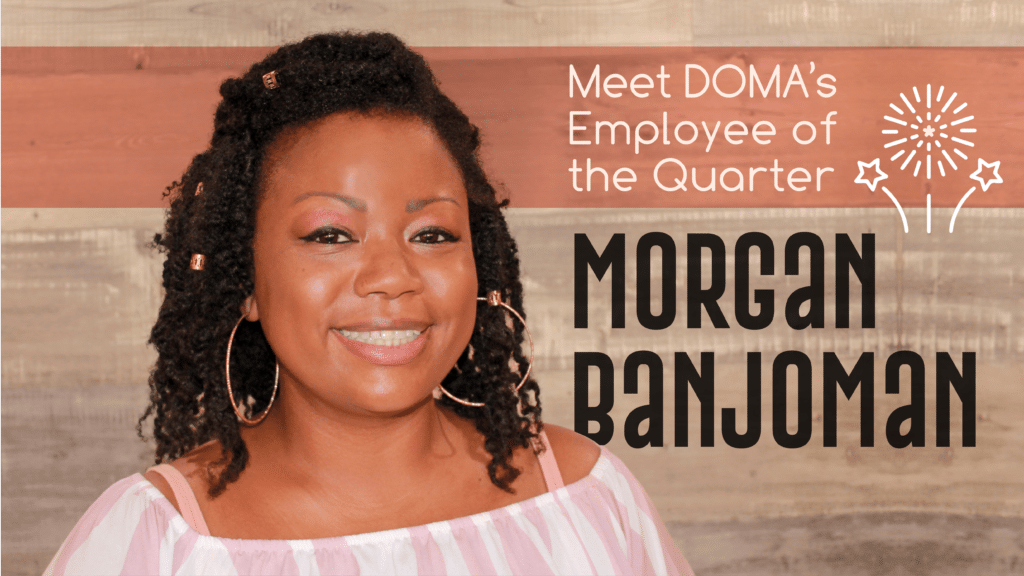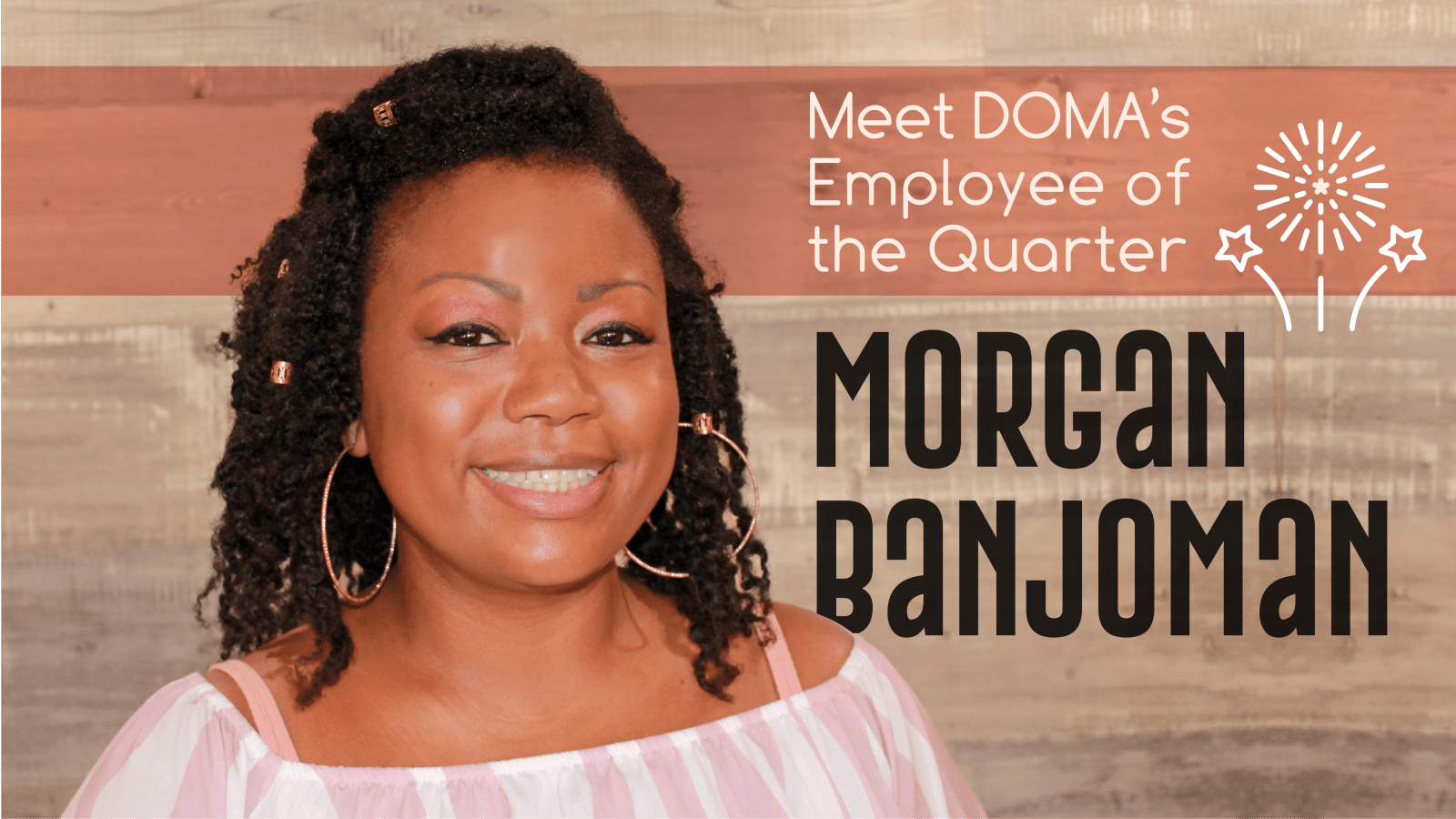 August is upon and at last it is time to select the Summer Employee of the Quarter (EOQ) at DOMA. It is with great pleasure that DOMA Driven has announced Morgan Banjoman as DOMA's Summer Employee of the Quarter.
In order to nominate someone for Employee of the Quarter, a fellow employee at DOMA must write to the committee offering examples of how the nominee exemplifies DOMA's core values of Integrity, Innovation, Fun, and Community. This quarter's EOQ certainly fits the bill – she is dedicated to both her work and community, inventive, and without a doubt fun. Her nominator had this to say about how Morgan exemplifies fun,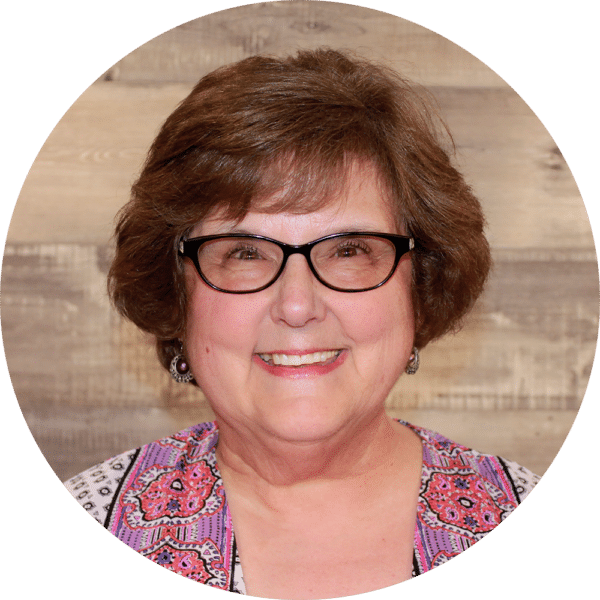 "Fun? Who? Morgan? You mean the lady with the funny sunglasses leading the birthday songs? The lady who celebrates everybody? Morgan generates fun wherever she is!"
Morgan's selection as EOQ has been a long time coming. Before DOMA Culture was relaunched with the three committees -Driven, Gives, and Ignite, there was a single DOMA Culture team. As a long-time member of that DOMA Culture team, Morgan was ineligible to be chosen as Employee of the Quarter. This did not stop other employees from continuously nominating her for the honor. Morgan's commitment to helping nurture DOMA's culture far outweighed any desire for accolades. Now that Morgan has moved to the Ignite committee, DOMA Driven is excited to finally see Morgan awarded Employee of the Quarter. Read on to learn a little bit more about Morgan:
How did you feel about being the first person selected as Employee of the Quarter at DOMA?
I feel humbled and proud to receive such an honor.
What made you want to come work at DOMA Technologies?
After researching online and learning that DOMA Technologies assisted our Nation's Veteran's, I knew I had to become a part of the team. I have no military background and felt like this was a way for me to pay back all of the people who laid their lives on the line for me.
Did you expect to win this award?
No way! I was so surprised.
How did it feel to be selected at the EOQ?
I was ecstatic! It felt so good to be recognized for going above and beyond my job title to ensure that the work environment is pleasant for everyone. I cried during the ceremony.
What's your favorite activity to do on break?
I am a walker. I like to take trips around the immediate area getting to meet my step goals. I have joined many FitBit challenges here in the office with co-workers and since I am competitive, I want to be sure to get the win for the week.
Many people have been eager to see Morgan as EOQ and her current nominator captured what sets Morgan apart:

"One thing I noticed right away is that doing her best work for DOMA comes first…As the PMR trainer, Morgan considers every new employee's success her responsibility. She is passionate about her students and it shows."
Is there someone you believe who deserves to be EOQ? Fall is just around the corner, so we need nominations! Don't forget, that the Employee of the Quarter will receive a $250 Bonus in your paycheck, a reserved EOQ parking space, a DOMA Swag Bag with premium merchandise, and one administrative day off.  If you work with someone who exemplifies Integrity, Innovation, Fun, and Community take the time to nominate them today.
About DOMA-
Powered by Tech, Driven by People
DOMA Technologies (DOMA) is a software development and digital transformation company whose mission is to change customer lives by lightening their workload through faster and more targeted access to their data. Since 2000, our team of 200+ experts has helped businesses navigate all aspects of the digital world. We are a dedicated strategic partner for the federal government and private sector clients at every stage of their unique digital transformation journey.