DOMA Sponsors Playground Build for Family Battling Pediatric Cancer
DOMA Volunteers for Playground Build with Roc Solid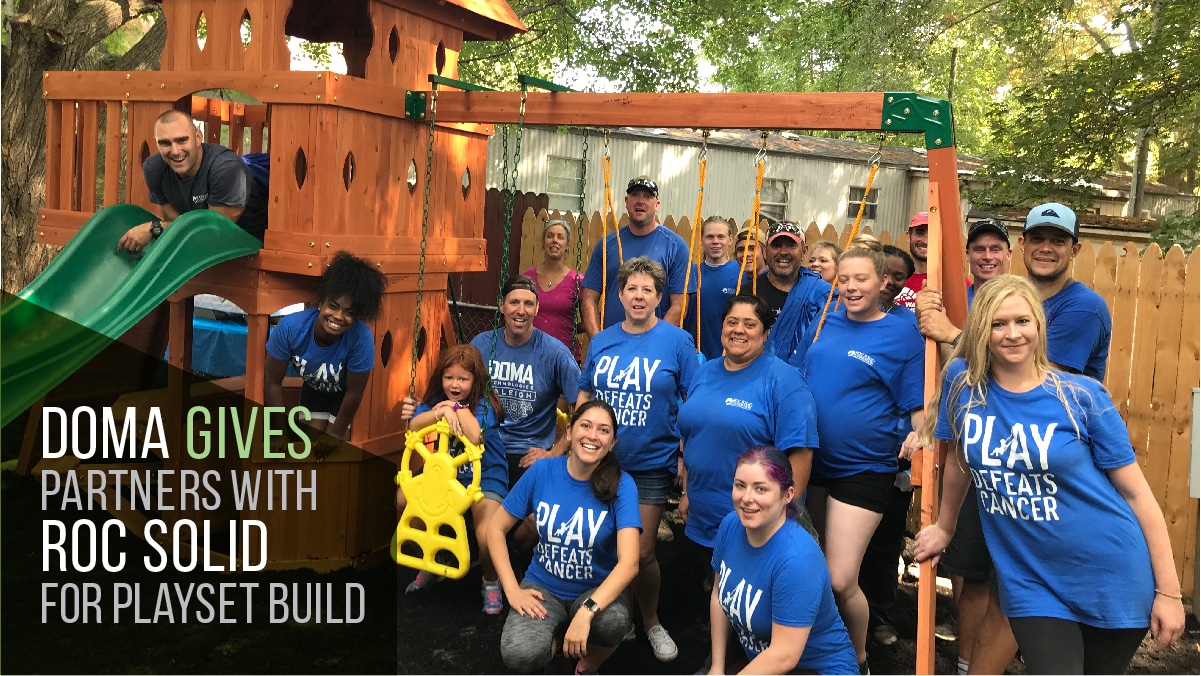 At 8am this past weekend on a blessedly overcast day a team of volunteers from DOMA and Roc Solid arrived in Newport News ready to build a playset for an amazing little girl named Mia. Mia, a bubbly 20-month-old, is battling Hepatoblastoma a rare form of cancer that typically starts in the liver. This playground project, sponsored by DOMA, is part of Roc Solid's Play It Forward initiative. This initiative is part of Roc Solid's greater mission to support children and families battling pedantic cancer. Childhood illness comes with many challenges; often people ask, "why build playsets?" Roc Solid says it best in their mission statement,

"Normal family activities are replaced with doctor's appointments and invasive treatments that leave kids with weak immune systems and often the inability to interact in public. A new backyard playset not only provides a safe haven for play, but it also represents an escape from the reality of fighting cancer, and most importantly, hope for the future."
Roc Solid Foundation Website
Participating in Mia's build was an amazing experience, made even better by Roc Solid's efficient and well-planned process. In a matter of hours, the volunteer team was able to assemble the playset from start to finish, help with a bit of landscaping, and clear the construction site. DOMA had an absolute blast putting everything together, but the real reward was meeting Mia and getting to see her smile on her new swing set when her family arrived back from their Zoo trip that morning. The team was honored to participate in the build and looks forward to sponsoring another playset next year.
DOMA plans to continue actively supporting Roc Solid until our next build by sponsoring Ready Bags. When a child is first diagnosed with cancer there is often an unexpected hospital stay attached. Ready Bags include everything a family might need for that difficult time including toiletries, a blanket, journal, tablet, snacks, and more.
"These essentials are helpful, but we hope they also send a message to each family that they are not alone as they begin this journey. This is Roc Solid's first step toward building hope in a situation nobody ever hopes to face."
DOMA is a proud supporter of Roc Solid and everything they do for the children and families facing a cancer diagnosis. If you would like to support their mission please visit their website to donate or sign up to participate in a build.
Find out more about helping children with pediatric cancer through Roc Solid's Play it Forward Initiative and Ready Bag Program. 
About DOMA-
Powered by Tech, Driven by People
DOMA Technologies (DOMA) is a software development and digital transformation company whose mission is to change customer lives by lightening their workload through faster and more targeted access to their data. Since 2000, our team of 200+ experts has helped businesses navigate all aspects of the digital world. We are a dedicated strategic partner for the federal government and private sector clients at every stage of their unique digital transformation journey.