Should Your Business Outsource Records Scanning?
To Outsource or Not to Outsource? Should You Outsource Your Records Scanning?
So you've decided it's time to save time, space, and money by converting all your records to digital. That's great, but should you outsource your records scanning or try to do it in-house? At first, it may seem like a good idea to try to save money by scanning your records in-house. However, that depends on how many records you have and what you need them to do for you once they are scanned.
Save Valuable Employee Time: Most likely you don't have a designated employee for scanning. Therefore, you would need to find an employee to take on scanning duties. Your employee would then need to be trained in organizing and scanning your documents properly. This whole process would take away valuable time from an employee(s) in which they could be doing their job(s).
Quicker Turn Around Time for Large Volumes of Records: For a business that is not equipped for scanning, large volumes of records can take a lot of time to process. Whereas, a scanning and conversion company, will be equipped to get your documents converted to digital more quickly. By outsourcing the scanning, your documents can be digitally accessible sooner.
Quality Assurance and Proper Tools: Scanning and conversion providers are well equipped with the right equipment for the job. Time-tested quality assurance procedures ensure that a quick turn around don't come at the cost of accuracy.
Make the Documents Versatile: When having your records scanned to a digital format, you need to consider how they will be used. Will you need to access and search these records frequently? When you scan your documents in-house, you may not have the capabilities to enable full-text search, tag documents by subject, or automate how they are processed. By outsourcing to a document scanning service, you will have superior quality control and more options for deploying the content trapped in your records.
Not Having Enough Documents to Make the Investment Worth It: If you have a very small amount of documents to convert to digital, it may not be worth the money to outsource.
Transferring Documents to an Outside Organization: To outsource your document scanning, you will need to transfer your documents to an outside organization's care. It is especially important to consider the proper care for your documents if you work with sensitive data. Make sure your documents are safe during outsourcing by checking the organization's security and compliance policies.
When Not to Outsource?
Generally, if a company has very few records to digitize they may not need to outsource their scanning. If you have only a few boxes of records to scan, you may not find outsourcing to be worth the investment. However, if you need those records to be fully searchable once scanned you may still want to consider outsourcing. In house scanning options generally do not include OCR (optical character recognition), workflow automation, or meta data tagging. Ultimately, if you will not need to access these documents often (or ever) than it might be more effective to scan yourself.
Consider Scanning In-house When:
You only need an archive and will not need to search or frequently access records later
Your volume of records is low (less than 2-3 boxes)
All of your records are smaller then 8.5×11″ and are primarily paper
Your records are primarily digital or you don't generate much analog content
When to Outsource?
Outsourcing your records scanning can save you time and money. If you have a large volume of records outsourcing your scanning is the best option. Organizations that scan records professionally will be able to convert your records quickly using the latest technology to ensure high quality scans. When paired with a great quality assurance protocol this means your content stays organized and legible. Professional scanning providers can also work with unusual formats that include film, slides, microfiche, and large format documents. Scanning these types of records often requires specialized equipment and is better trusted to professionals.
Consider Outsourcing your Scanning if:
You have multiple records types or have records stored in a variety of locations
You have a large volume of records
You need instant digital access to your records
You need searchable records or would like to extract data from your files
You don't have the necessary equipment or personnel to complete the work
If you decide to outsource, where do you go from there? The most important thing to consider is what organization you will be working with from the many options available.
What to look for when searching for a company to outsource with:
Do they track documents in their possession from your facility to theirs? You want to make sure that your documents are safe in transit from your organization to theirs. Make sure they have a system in place to track their vans/trucks when they are in transit.
What is their Security and Compliance Policy? If you deal with sensitive data, it's important to know how your documents will be handled. Do they have a secure facility and other security protocols in place?
How do they handle your files after the scanning process? What options will you have for your documents once they are scanned? Some scanning companies will securely store your records, destroy them, or give them back to you.
Can they make your documents more usable by automatically populating metadata to make them searchable? If you are going to convert your documents to a digital format, why not make them as usable as possible? During the scanning process, documents can be converted to have the whole document be searchable. Doing this will save you valuable employee time in the future.
Do they have an Electronic Document Management Software (EDMS) that you can utilize once your documents are converted? You may want a system for organizing your electronic documents if you don't have one. This system will allow you to take full advantage of your newly converted documents.
How can DOMA help with your records management?
With 20 years of experience, DOMA can handle all your document scanning needs.
Secure Pick-up and Transfer: Your documents are safely transferred to DOMA's central processing facility. Trucks are GPS tracked and make no stops between pickup and delivery.
Quality Control: Documents are prepared specifically to meet the project requirements. Documents are converted electronically with digital images, ensuring the best representation in orientation and legibility. Quality Control is performed throughout the imaging process by a dedicated QA specialist ensuring the highest standards of quality and accuracy.
Make Your Documents Usable: Documents are made searchable by utilizing metadata that is populated through lookups, bar-codes zonal OCR, or full-text OCR. You also have the option of using our cloud-based document management platform. The technology platform offers a unique solution for secure, unlimited access to documents from any internet connection.
Client Sign-Off: Ensure document management services are secure and comprehensive. The customer can choose to continue to use DOMA's cloud platform and add documents day-forward, keep the site live for instant access, or have their data exported to a multimedia device a Hard-drive. Physical records can be securely destroyed or returned to the customer.

About DOMA-
Powered by Tech, Driven by People
DOMA Technologies (DOMA) is a software development and digital transformation company whose mission is to change customer lives by lightening their workload through faster and more targeted access to their data. Since 2000, our team of 200+ experts has helped businesses navigate all aspects of the digital world. We are a dedicated strategic partner for the federal government and private sector clients at every stage of their unique digital transformation journey.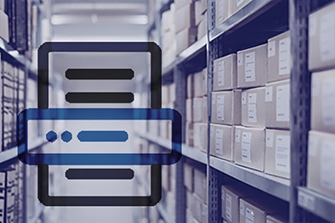 Learn more about DOMA's Document Scanning Solutions