Why Digital Transformation has been a Challenge for SLED Organizations
Government entities are notoriously slow to adapt to emerging technology trends. The need to generate a profit and compete with other businesses means that commercial enterprises tend to be more receptive to taking risks by employing new technology. Likewise, they are more agile with their budgets and often subject to fewer regulations on how and where to spend their money. In order to stay competitive, customer experience and efficiency are top priorities and consequentially innovation is a keystone for most consumer focused industries. Anything that creates an edge is worth a look for commercial businesses, but this isn't generally the case with state and local governments or agencies. After all, it's not like the department of agriculture or the state of New York is competing with itself for business. 
So aside from the non-commercial aspect, what's holding state and local government back from meaningful Digital Transformation? In many cases, the issue is a combination of budget and complexity. Government processes require a certain level of standardization in order for them to be fair, accurate, and consistent for every citizen. This has led to the mindset of keeping things the way they have always been because it will be familiar for both constituents and for government workers. As a result, state and local governments as well as public education facilities become dependent on legacy technology and systems. The "if it's not broke, don't fix it" ideology is pervasive in these silos, but that doesn't mean there isn't a need for change. Mounting pressure from increasingly technology-savvy citizens as well as accelerated project timelines are just two of the driving forces behind the pressure to change.
Three Common SLED Challenges That Can Be Solved with Digital Transformation:

Changing Expectations:
Today's citizenry has come to expect fast, user-friendly processes that mirror their experience with commercial businesses. It stands to reason that if one can work, learn, and even order groceries from the comfort of their home using cloud technology they should be able to do the same for things like completing government forms and processes. Convenience and speed are priorities for today's customers and that "two-day speed" they've come to expect from tech giants like Amazon has led to a rise in expectations. People are simply no longer willing to hurry up and wait for things like records requests or government IDs nor are they content to wait in long lines for in-person services that could be just as easily delivered digitally.
Legacy Infrastructure:
Outdated infrastructure, whether digital and physical, makes upgrading technology an uphill battle. Older networks and hardware may not be able to keep with with increasing demand and shorter deadlines. Similarly, backwards compatibility may be another barrier when looking to integrate new cloud tech. Unfortunately, many of these older systems are so entrenched that it can be costly or logistically difficult to replace them. This especially true if a system us used across cities even statewide. 
A New Generation of Complexity:
This challenge is two-fold. As long-time staff retire, their often younger replacements onboard with an expectation of modern tools and technology. Training a new generation to adapt to archaic processes and tools is counter-intuitive. Likewise, expecting outdated machines to run the latest software or be immediately compatible with cutting-edge cloud tools is wishful thinking at best. The future of digital infrastructure is clearly cloud-based. With the Cloud, software can evolve at the speed of consumer demands meaning that adapting only gets easier going forward. The longer agencies wait, the more behind they become. At some point the gap may become so great that the agencies themselves may become obsolete. 
"A recent trip to the DMV has proved to be a timely example of just how unexpected challenges can drive change for the better. After moving I found that my diver's license was due for both renewal and change of address; in my case, I could not complete both of these tasks online. Due to state mandates surrounding the COVID-19 pandemic the DMV was only taking people by appointment in order to minimize contact and enforce social distancing. 
I was dreading the appointment, but ultimately for the first time in my life, I can say I had a pleasant experience at the DMV. I was called back to the counter within minutes of arrival, the clerk was relaxed and helped walk me through the paperwork I needed to complete. All said and done, I was in and out within 20 minutes. 
As I was about to leave I asked the woman behind the counter how she felt about the new appointment system and the fact that so much of these once "only in-person" processes could be completed online ahead of time. She replied that it has made things so much easier and less chaotic, that customers have responded positively to it, and that the DMV planned to continue with the online appointment and digital form system indefinitely. She added that the DMV had been planning to move to an online appointment system for a while, but COVID-19 provided the push they needed to implement the initiative sooner."
This scramble to quickly implement digital initiatives in the face of unexpected challenges has been the story for many state and local entities. No one was truly prepared for a global pandemic, much less one that has raged on for over a year. Without the pressure to adapt many agencies were able to push off digital transformation initiatives with excuses regarding budget or the difficulty of implementing a new enterprise-wide system. Indeed, re-allocating an already tight budget to implement new digital tools or infrastructure and re-training staff is never easy. However, investing in digital transformation can lead to a substantial return on investment in speed of service, customer satisfaction, and reduced busy work for staff. With digital transformation the value has always been there, but not the drive. COVID-19 has been a wake up call in many ways, not least of which the fact that things cannot always continue as they always have. Change isn't on the horizon, it's already here and there's never been a better time to make the shift to a more modern workplace.
Digital transformation can address all of the challenges of rising expectations, outdated infrastructure, increased complexity, and more. The shift isn't always easy but it is worthwhile because it keeps your agency relevant and productive. Getting started with digital transformation begins with knowing where you are on your transformation readiness. Take our free, online assessment and get some straightforward recommendations on where to begin. 
DOMA understands that budgetary constraints is on of the number one challenges for SLED customers. We have the experience to help you navigate the complexity of updating your digital architecture to take advantage of the Cloud while also staying within budget. Whether it's a need to transition to digital form taking or the desire to implement a more collaborative cloud infrastructure, we are here to help. 

About DOMA-
Powered by Tech, Driven by People
DOMA Technologies (DOMA) is a software development and digital transformation company whose mission is to change customer lives by lightening their workload through faster and more targeted access to their data. Since 2000, our team of 200+ experts has helped businesses navigate all aspects of the digital world. We are a dedicated strategic partner for the federal government and private sector clients at every stage of their unique digital transformation journey.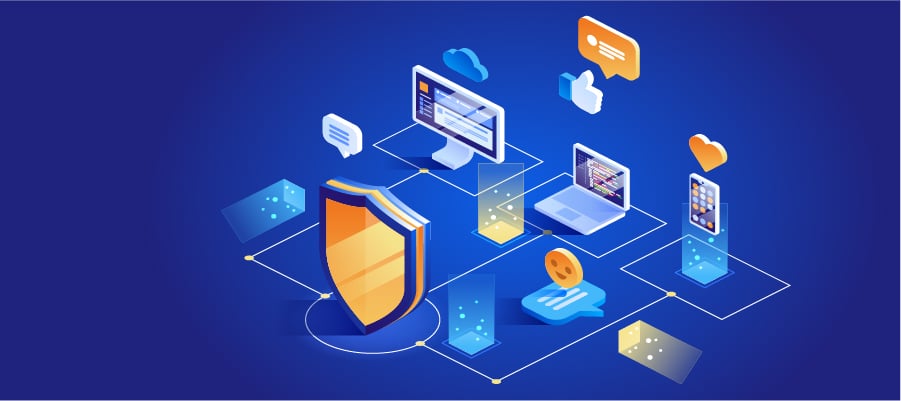 Take DOMA's 5-minute Digital Transformation Assessment to see what initiatives are right for your organization.