DOMA Technologies, A GSA Schedule 36 Contractor, Supports Federal Agencies With Guaranteed 24-Hour Quoting
As the End of the Federal Fiscal Year Approaches, DOMA launches 24 Hour Quick Quote Program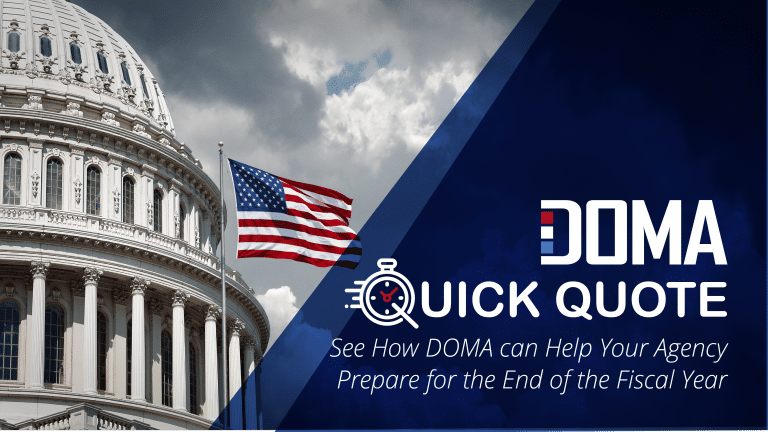 Virginia Beach, VA, June 28, 2019 –
DOMA Technologies Supports Federal Agencies With End of Fiscal Year Dedicated Staffing & Guaranteed 24-Hour Quoting. But That's Just The Start…
Summer may be in full swing, but the end of the fiscal year is only a few months away. Now is the time to take stock of what workplace transformation projects remain uncompleted. If you find that you're still dealing with overflowing file rooms, unsecured data/records, or inefficient workflows DOMA can help.
In order to help federal agencies get aligned with the government's upcoming NARA M-12-18 (Managing Government Records Directive) deadline, DOMA is launching the Quick Quote Initiative. One of the biggest barriers to putting an information governance plan in place is knowing where to start.
With DOMA's Quick Quote all you need to do is fill out our contact form and within one hour a DOMA sales rep will reach out for a five-minute phone assessment. After the assessment, you will receive a customized quote within 24 hours. The Quick Quote process is straightforward and commitment-free, meaning you can begin making genuine strides towards meeting your information governance targets on time.
As a GSA Schedule 36 contractor DOMA offers a wide range of digital solutions that can be deployed quickly including:
GSA 51 504 – SIN 51 504 | Physical Records Management Solutions
GSA 51 506 – SIN 51 506 | Document Conversion Services
GSA 51 600 – SIN 51 600 | Electronic Records Management Solutions
Why Partner with DOMA for your Information Governance Needs?
Dedicating the infrastructure and manpower required to effectively manage backlogs of paper records is simply not a viable option anymore. Adopting a new strategy to digitize content and implement an effective cloud migration plan is not a matter of if, but when. In August of 2012, the Office of Management and Budget (OMB) and the National Archives Records Administration (NARA) issued Memorandum M-12-18, Managing Government Records Directive. This mandate requires that all Federal agencies eliminate paper record-keeping for all permanent and temporary records by December 2019. According to NARA's 2017 Records Management Self-Assessment:

"Even though 96% of agencies said they are aware of the requirement to formally request permission from NARA to retain permanent records beyond their eligibility to transfer them to NARA, there was little or no change in the number of agencies transferring permanent records in any format. Compared to the last two years, the figure remains around 50%. This is a core activity that is clearly not being done."
National Archives and Records Administration
FEDERAL AGENCY RECORDS MANAGEMENT 2017 ANNUAL REPORT (Published August 2018)
As your agency works towards its year-end goals you may be struggling to find the right partner to help you move forward. It's easy to get stalled in a complex bidding and negotiation process only to find out the provider doesn't match your compliance requirements or comes in over budget. With only three months until October 1st there is no time to waste. Get a DOMA Quick Quote and learn how we can help transform your information workflow:
Learn more about DOMA's services and get a Quick Quote:
DOMA's Prime and Sub-Contract Vehicles
DOMA is a contractor on a number of Government-Wide Acquisition Contracts (GWAC), Indefinite Delivery/Indefinite Quantity (ID/IQ) contracts, and General Service Administration Federal Supply Schedules (FSS). These vehicles allow federal agencies convenient and efficient access to a predetermined list of qualified vendors to expedite the procurement of services.
Purchasing a DOMA Solution is Simple for our Federal Clients. Visit our GSA 36 and 70 listing to check out our contract vehicles.
Contact DOMA to Get Started Digitizing Your Government Records
If you're ready to get a custom quote for a project, we invite you to contact us. We'll talk to you about your project and create a quote that addresses all your needs. Contact DOMA to start the conversation about your project now.
Learn More about DOMA's Services:
DOMA Digital Conversion Services
DOMA Healthcare Information Services
Federal Services Contact:
Jim Fisher
Director of Federal Digital Services
About DOMA-
Powered by Tech, Driven by People
DOMA Technologies (DOMA) is a software development and digital transformation company whose mission is to change customer lives by lightening their workload through faster and more targeted access to their data. Since 2000, our team of 200+ experts has helped businesses navigate all aspects of the digital world. We are a dedicated strategic partner for the federal government and private sector clients at every stage of their unique digital transformation journey.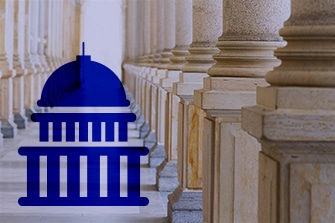 Learn more about DOMA's Federal Government Solutions.