Did You Overlook These Great Features?
DOMA's DX 8.0 is a Software as a Service platform designed to help your organization better manage data and documents. DX has a robust suite of features, but many of our users are only scratching the surface of what DX can do. I spoke with our development team to learn more about a few underutilized or unique features within the DX platform. 
What is a great feature not everyone knows about?

"Report scheduling is one of my favorite under-used features. Admins can assign reports to run on a schedule, either periodically or at defined specific times. DX8.0 will send an email or user message when the report is available. As an example, all sites are pre-configured to run the User Upload Summary report once a month for our accounting department.  This feature can be applied to any report in the system."
What's something new in 8.0 that customers have requested?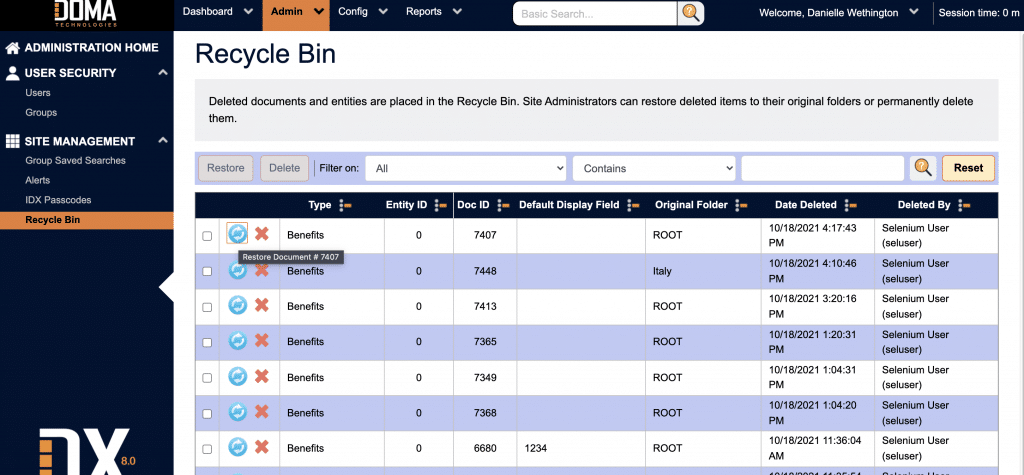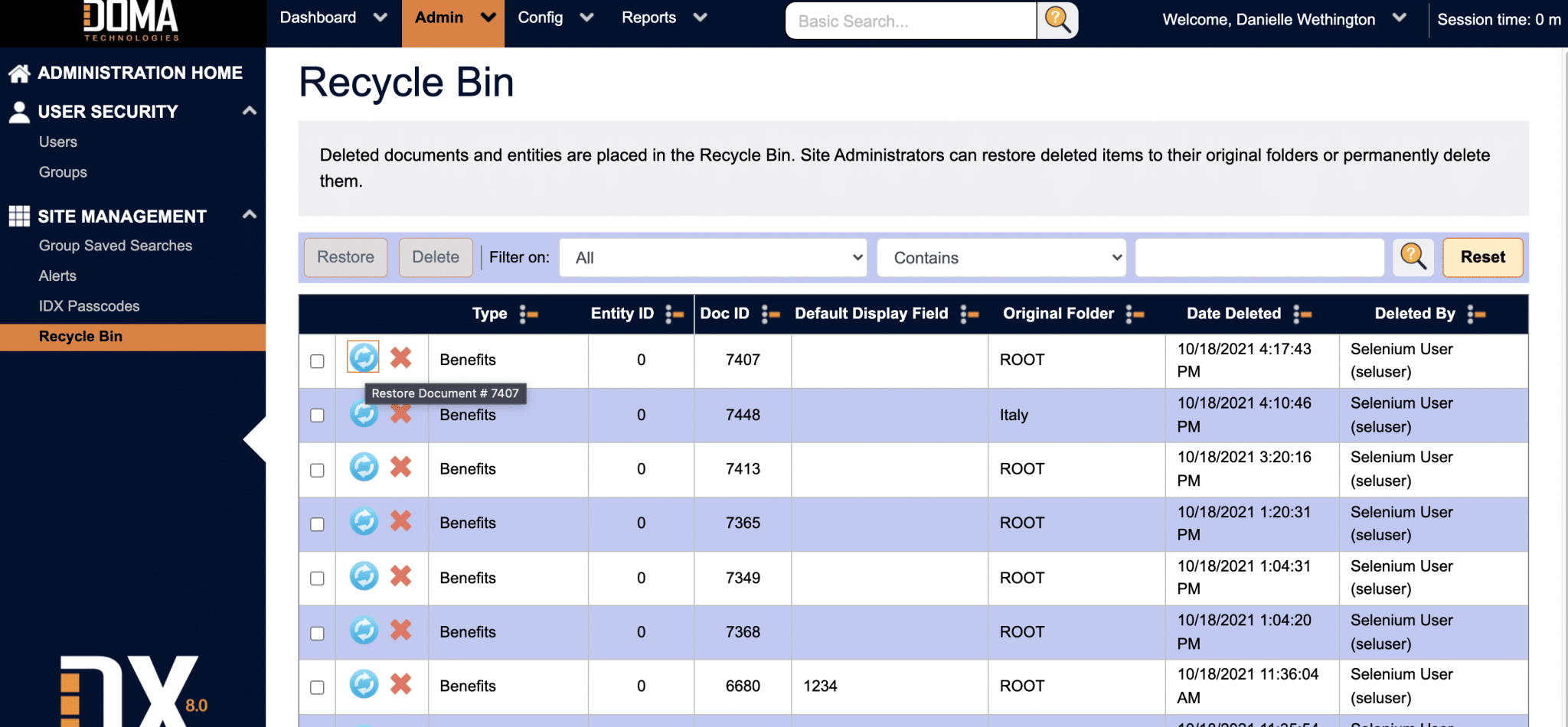 "As far as new features, the Recycle Bin will help a lot of users. This new functionality allows approved users to restore any unintentionally deleted content by accessing the admin section of the site. In our previous version 7.7, users had to contact the help desk to get deleted documents restored via the back end. Now it's a simple process that users can do themselves. 
Another cool feature is the Text Tool feature. This is an upgrade from the basic interface, but it applies OCR (optical character recognition) to structured and semi-structured forms, with enhanced viewer validation of OCR'd fields.
Director, Software Development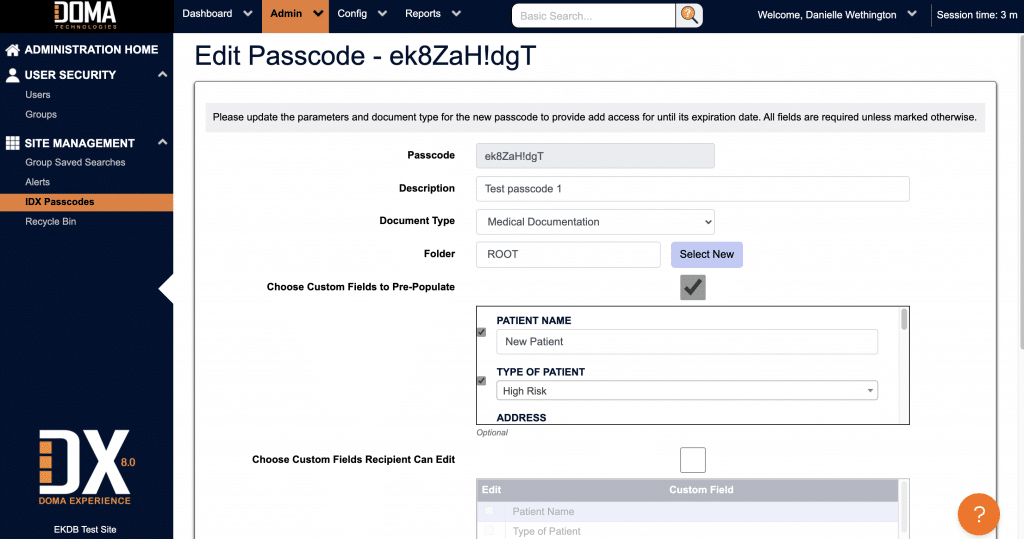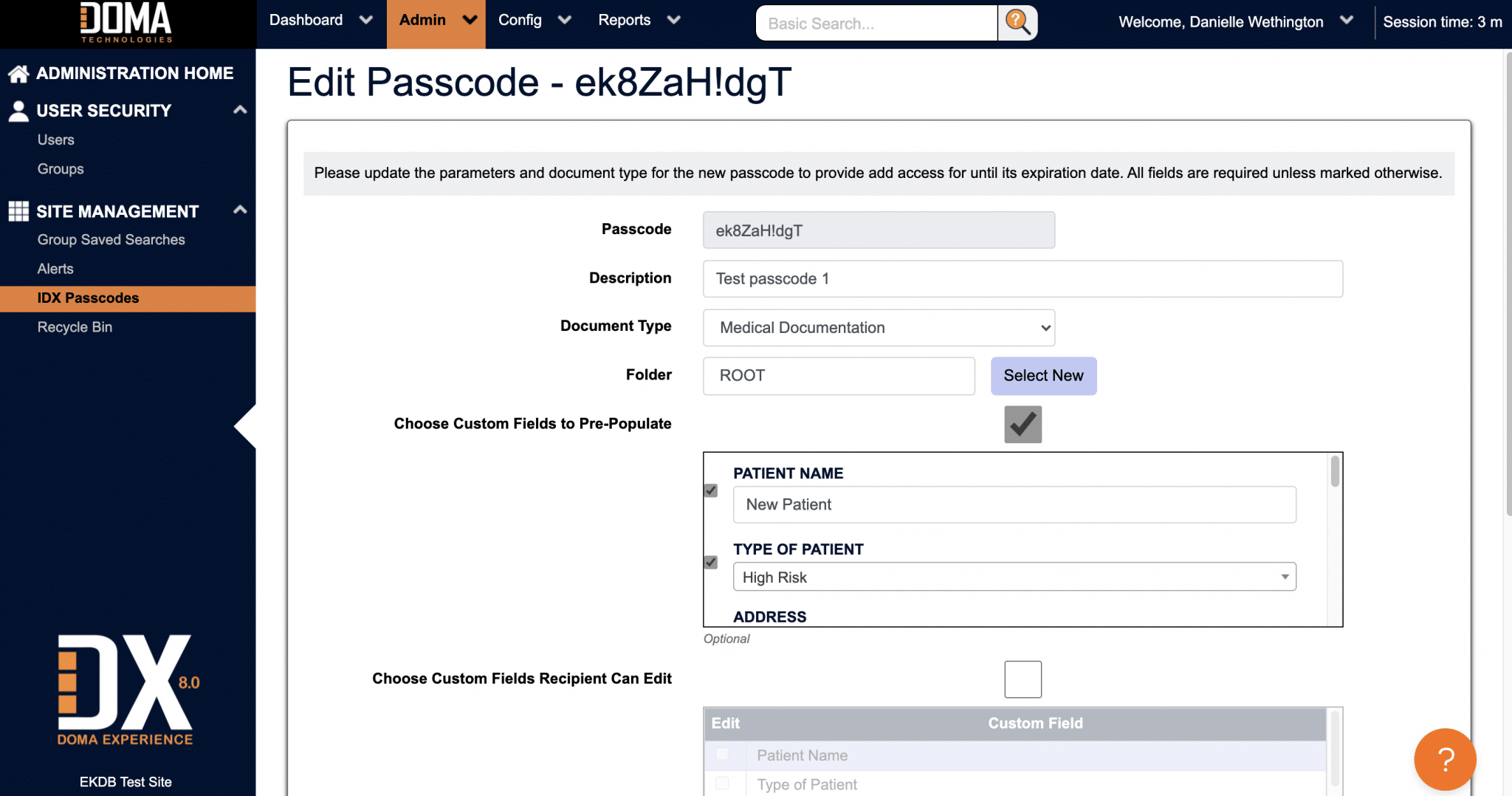 "I second the Text Tool Feature. Joe has been putting in a lot of work into that functionality and there's some impressive stuff in there. 
IDX is also a great upgrade in DX8. With IDX, users can create temporary passcodes that allow non-users to upload documents to the site. This makes it easy to collect information, like medical records or other important forms that need to remain secure. Allowing non-users the ability to upload using the IDX portal makes things easier for many of our customers."
Tell Me More about Text Tools...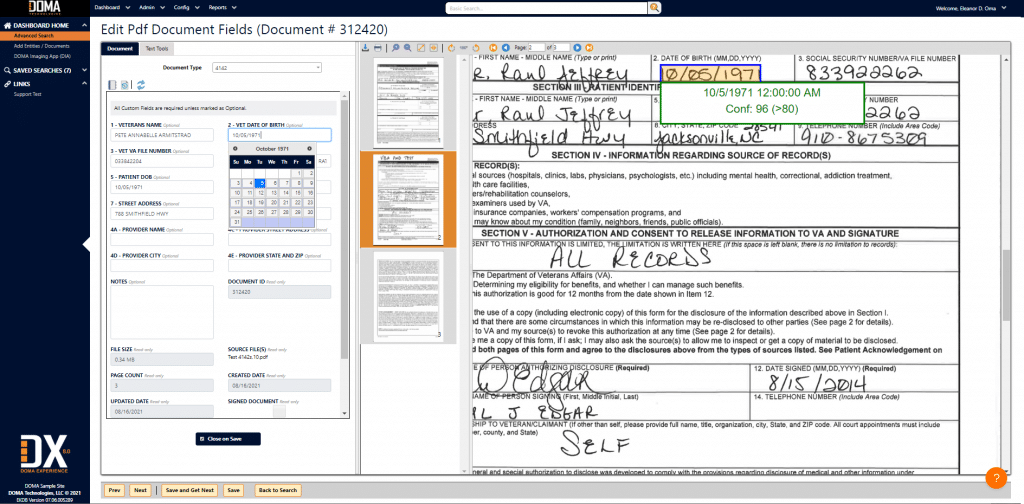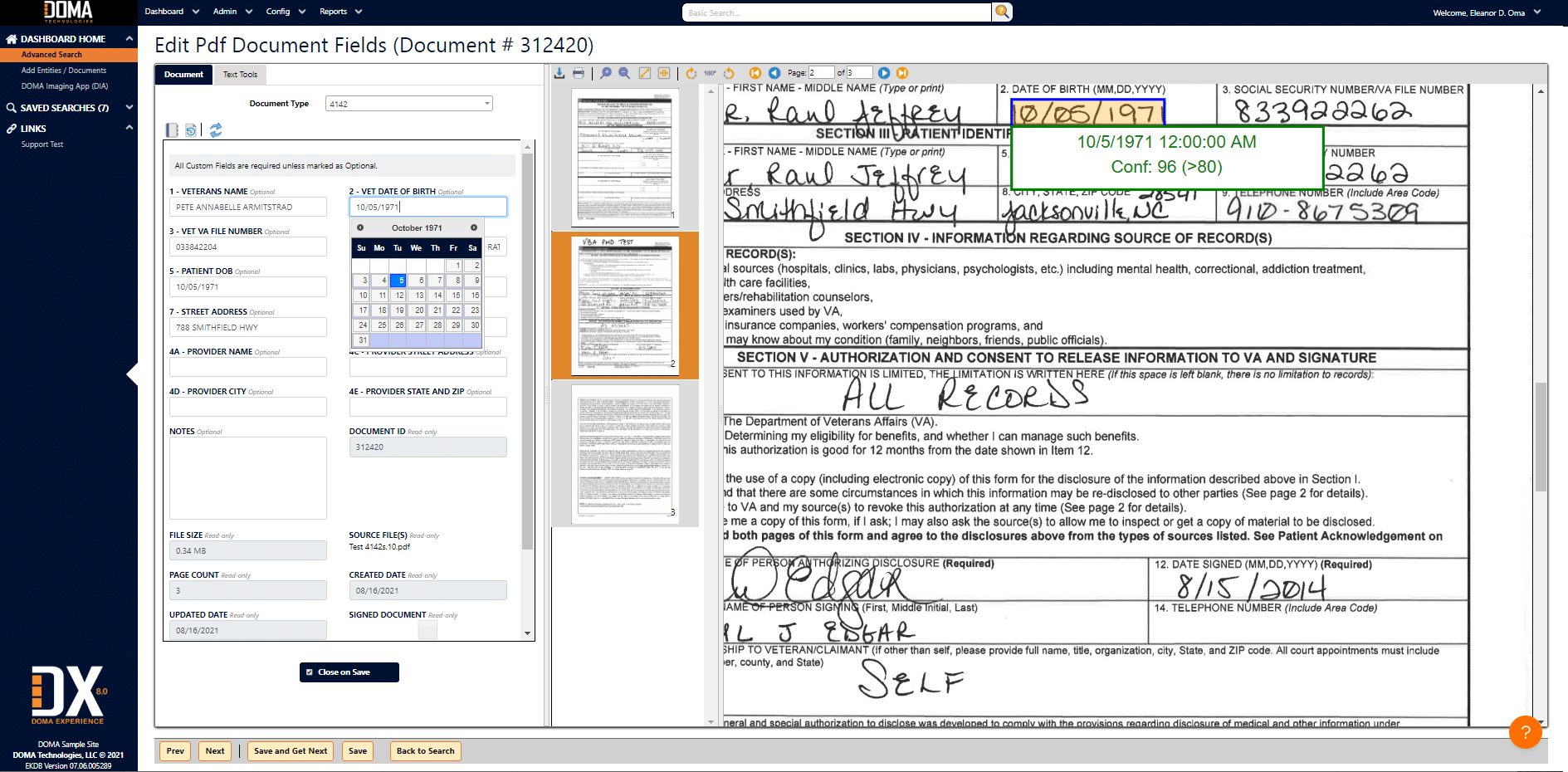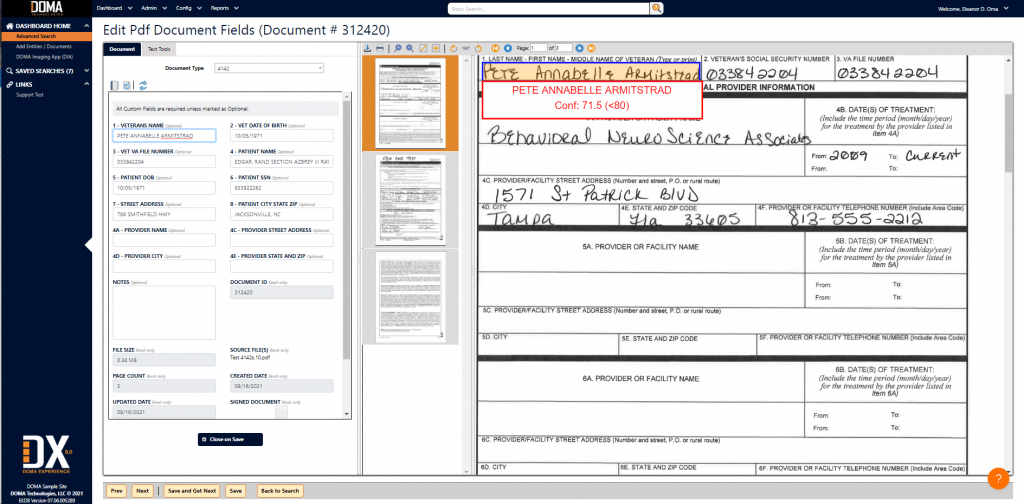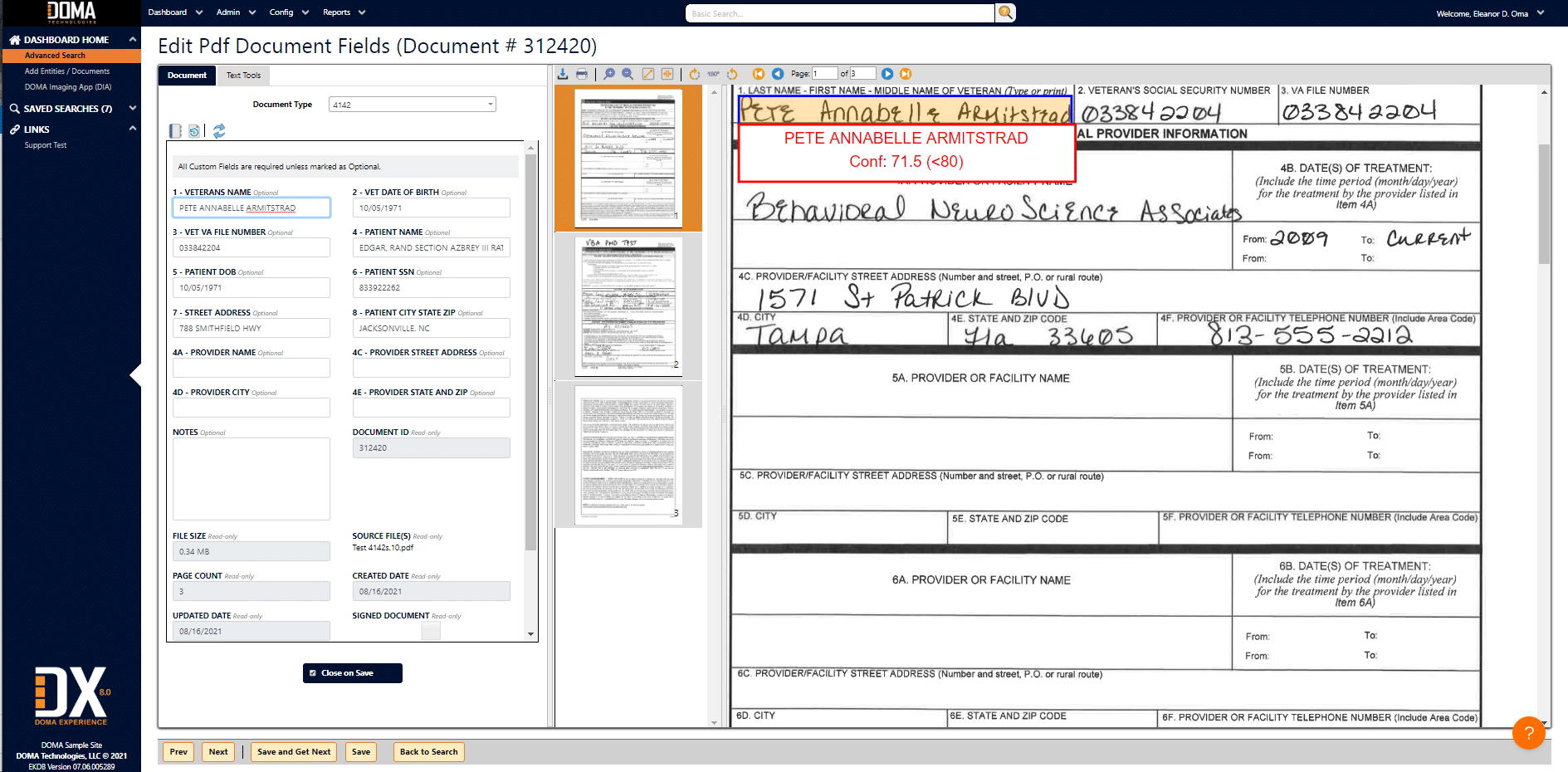 "Text Tools allows users to get more in depth with their forms using high-level OCR. When the user focuses on a mapped field of the document (left side), the image view (right side) will:
Zoom in and highlight the key/value pair
Display the value
Display the confidence value/threshold
This allows users to extract key data and apply it to other automated processes. It's definitely a great tool to look into adding on if you're a DX User. "
DOMA DX is under constant development. Our in-house team is consistently reviewing user feedback and industry trends to ensure that our platform remains ahead of the curve. This short blog is just the tip of the iceberg when it comes to DX8. 
The need to work offsite has become paramount for many organizations and centralizing data and document access is at the heart of a successful remote work strategy. With so many o four customers undergoing this transition, many users are beginning to dig deeper into the DX. It's not just a repository for online documents, it's a complete data workflow solution that can offer automation, machine learning tools, real-time metrics, and more. The true value of DX lies in how it helps you gain a deeper insight into your business information. 
How Can I Learn More about DOMA DX?
The second installment of our new 8.0 features overview webinar is on the way, but until then, if you'd like to learn more about DOMA DX check out a few of these great pages:
DX 8.0 Release Page – Get an overview of what's new with 8.0 and watch an on-demand webinar. 
DX Feature Overview – Get a rundown of all the main features in DX. 
DX Video Learning Library  – Watch videos showing the basics of how to use DX.
DX 8.0 New Features – Check out interactive screenshots of new features in 8.0.

About DOMA-
Powered by Tech, Driven by People
DOMA Technologies (DOMA) is a software development and digital transformation company whose mission is to change customer lives by lightening their workload through faster and more targeted access to their data. Since 2000, our team of 200+ experts has helped businesses navigate all aspects of the digital world. We are a dedicated strategic partner for the federal government and private sector clients at every stage of their unique digital transformation journey.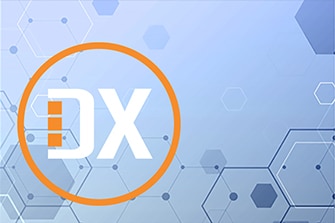 Learn more about DOMA's DX Software