3 Ways to Get Ahead with Records Management in the New Year
Make the first step towards a better year for your business
Happy New Year!  It's that time of year again where we all make our New Year's Resolutions, so why not make one for your business?  There is nothing more frustrating than having to physically search through a large file room to find just 1 document.  Save yourself the frustration in the New Year by implementing a records management strategy. 
How can better records management improve your workflow:
Save valuable office space by going digital.

Reduce the need for employees to waste valuable time searching through physical files.

Improve inter-departmental cooperation by hosting records in a central repository.

Increase compliance with your industry's data governance and privacy regulations by using a secure Content Services Platform (CSP) hosted in the highly secure AWS Cloud.
What are 3 Ways to Improve Records Management?
If you have a large number of business records and don't know where to start with your Records Management Strategy here are the steps to get you started:
Effectively Sort and Store Records-  Implement an effective strategy to securely store or destroy records you have converted digitally.

Locate and look through all your records to see how many records you have and to make sure you have accounted for all documents. The new year is a great time to take stock of all of your paperwork. Tag and label anything that needs further review and begin building the foundation for how you will intake and sort documents moving forward. 
Sort through your records to see what your business needs to keep long term vs. what can be converted to digital and securely shredded. This is a key part of good document handling. Identify which records contain valuable Personally Identifiable Information (PII), which include key business data, and which are superfluous. 

Establish a document lifecycle for retention and destruction. After you have a clear picture of your records decide different types of documents will be handled and by whom. Will you be storing in-house or off-site at a secure facility? What about secure destruction? There are many elements to consider but taking stock and developing a plan is the first step. 

Get Your Records Converted to a Digital, Searchable Format- Going digital makes access to your records fast and secure.

Having Records converted by a third party, such as DOMA, allows you to open up space and save time. Employees will be free to concentrate on important, high-level tasks rather than endlessly searching for records they need.

After records are converted they will be indexed and available for employees throughout the company digitally improving company efficiency and performance. Apply secure protocols through your storage platform to ensure that each employee only has access to the documents they need for their role. 

Implement a Content Services Platform (CSP) Hosted in the Cloud- Using a CSP to centrally store and manage your documents can make your business run more smoothly. A CSP allows you to:

Easily search through documents to find what you need.. Many CSPs' have Advanced Search options to help you find exactly what you're looking for using keywords, file type, metadata, barcodes, and more. 
Upload any new documents with ease so that they can be indexed and searched. Once the difficult lift of digitization has occurred it's much easier to move forward with a more streamlined intake process. 
Create workflows so that daily tasks can be completed with ease. Eliminate rote operations and increase accuracy using custom workflows and integrations. 
Be confident that your records are secure in the Cloud. With consistently improving security measures the Cloud is one of the safest ways to protect your data from theft, damage, or destruction. 
Once you have implemented some or all of these steps get ready to take advantage of easier access to all of your records in the New Year.

How DOMA Handles Records Management
You can trust DOMA with your records management.  We have processed 815+ million documents and images, 250+ million ongoing monthly transfers, and 36+ million electronic transactions.
DOMA offers document scanning and conversion services for source materials beginning with small-scale paper documents like IDs and index cards to large format, full-color engineering/architectural renderings. From microfilm/fiche and aperture cards to bound books, we have the equipment, trained staff, and technical knowledge to accurately convert your content. Our secure document conversion solutions can intelligently capture color, black and white, and wide/large format images with ease.
Using our DOMA DX Software in conjunction with our conversion services allows businesses to not only easily access all of their documents but to incorporate advanced workflows, technologies, and systems. DOMA does more than just scan and store, our services include a wide range of digital transformation offerings that can help you stay ahead of your competition. 

About DOMA-
Powered by Tech, Driven by People
DOMA Technologies (DOMA) is a software development and digital transformation company whose mission is to change customer lives by lightening their workload through faster and more targeted access to their data. Since 2000, our team of 200+ experts has helped businesses navigate all aspects of the digital world. We are a dedicated strategic partner for the federal government and private sector clients at every stage of their unique digital transformation journey.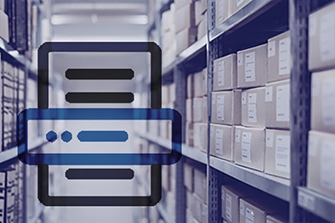 Learn more about DOMA's digital solutions.